I was curious to visit Artusi Ristorante, the fine dining Italian restaurant in Gurgaon in One Horizon Mall. I love fine dining restaurants.
I must say One Horizon Mall is beautifully designed. The Artusi Ristorante is strategically located in the mall.
Ambiance of Artusi Ristorante
The restaurant had a great combination of colours of walls, furniture, table cloths and glasses. I loved the movish, purplish colour of the overall ambiance. High roof and beautiful chandeliers gave an elegant look to the restaurant. Interiors were very thoughtfully done.
Food
First of all I had Tortino Diporri. Tortino means small cake, small pie. Small pie of quiche with leek was topped with Gorgonzola cheese and creame. It was a nice little appetiser which melted in my mouth with a crispy crunch.

Then I was served Ferro salad which was outstanding! I loved the combination of Arugola, fruits, dry fruits and vinegar. The salad had finely cut apple slices, grapes, pine nuts, raisins, cheese and dressing of olive oil with vinegar. It was a luscious combination.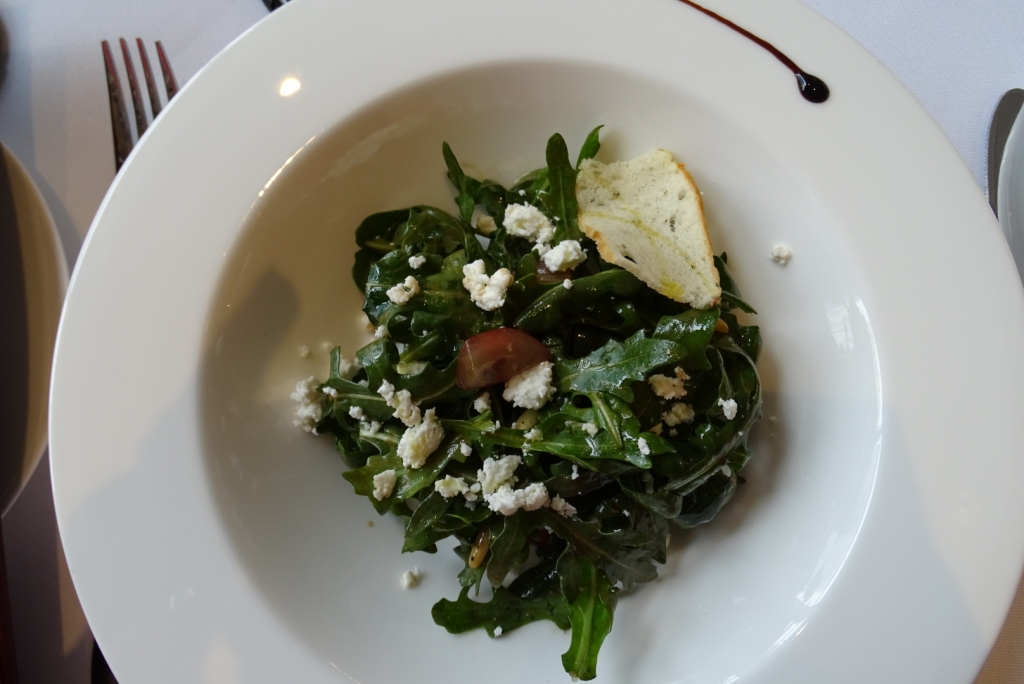 Ravioli with asparagus sauce was what I had next and it was mouthwatering! It had a perfect blend of vegetables and spices. Raviolo al Burro e agli Asparagi. This square  pasta had a filling of spinach and ricotta cheese. It was topped with butter sauce with sage and asparagus.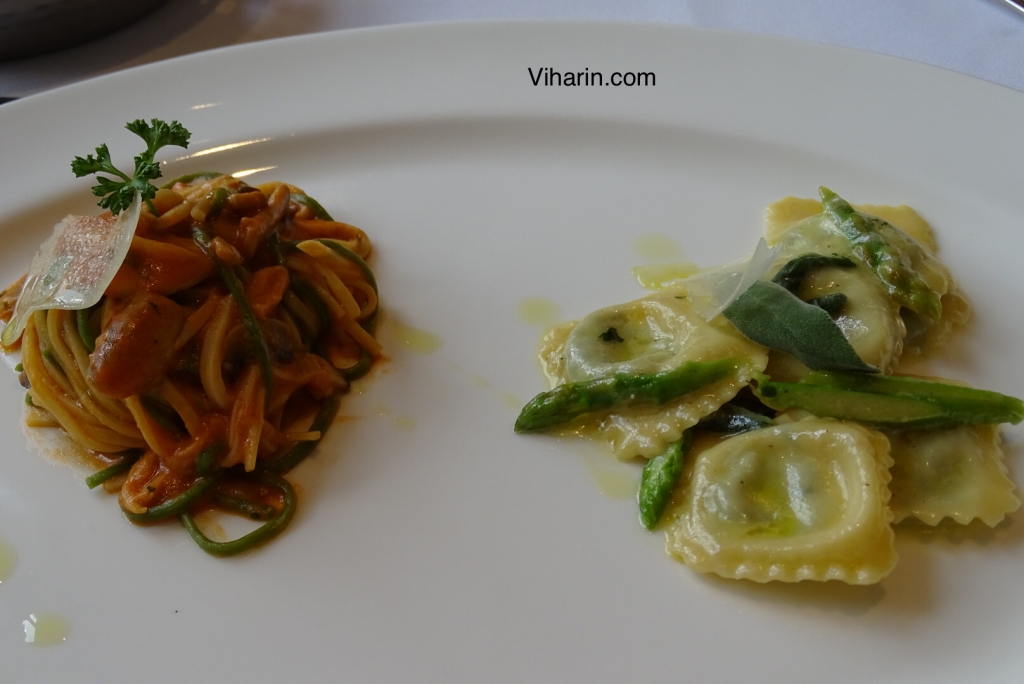 Lemon sorbet with rosemerry and coconut, the palette cleanser was very refreshing and appetising! I even liked the topping which was a grated thread peel of lemon which was again done magically.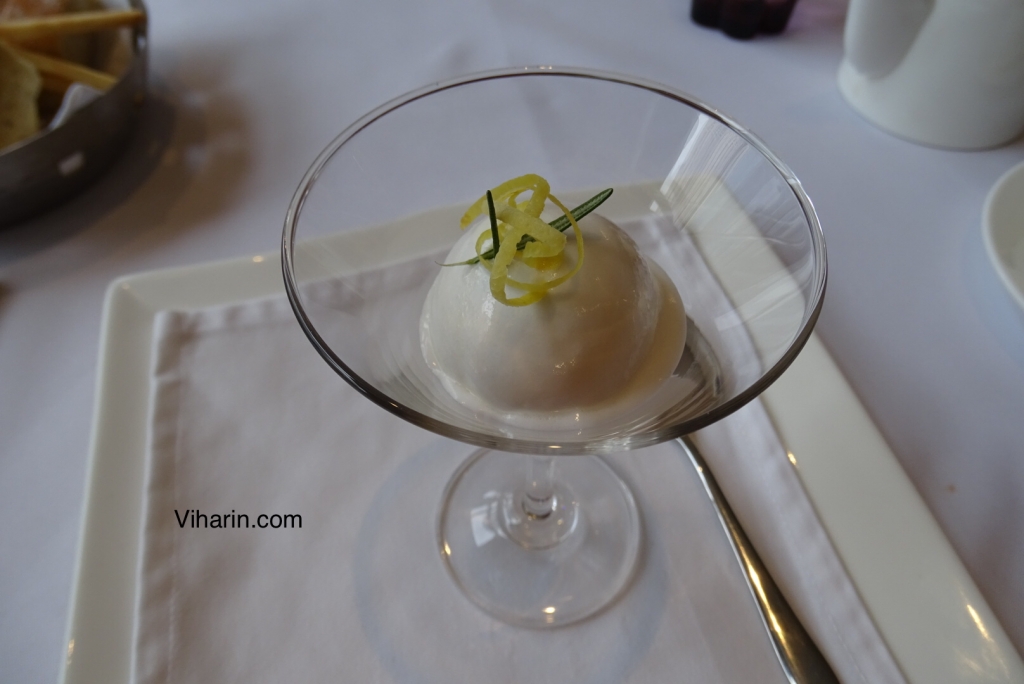 Frico Romagnolo. Diced vegetables blended well with spices. It tastes so Indian as it had a basic paste of tomatoes and chopped onions. Loved the combination. Risotto with a dash of cheese was delicious!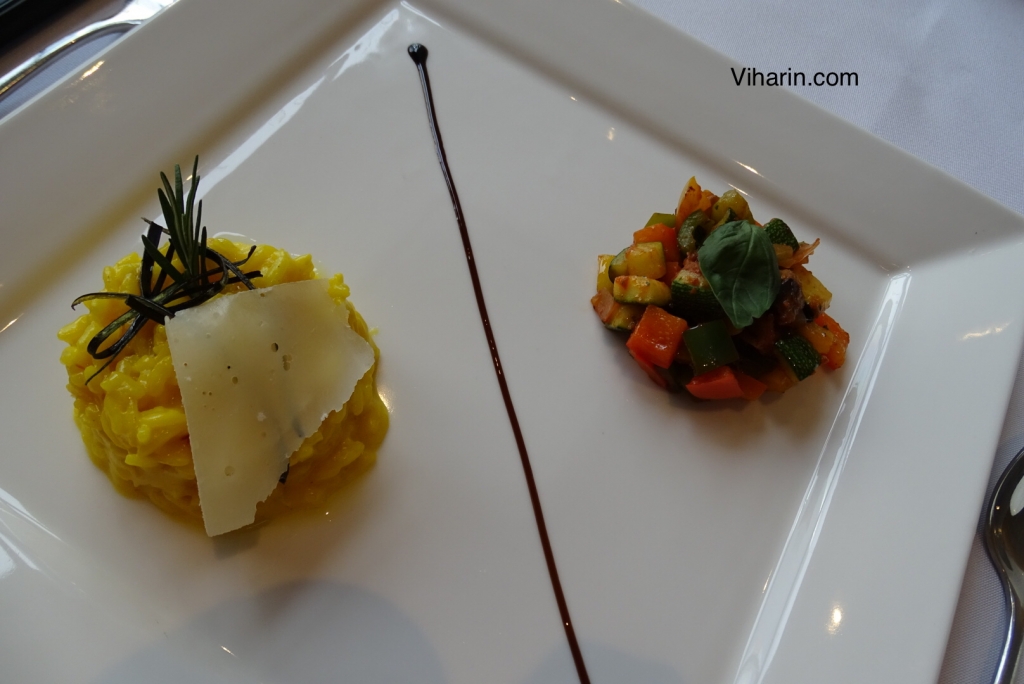 Marinated strawberries topped with Mascarpone cheese was marvellous. I loved every bite of it. The thin buiscuit complimented to the over all taste of this dessert.
Last but not the least, grand finale was done by Panacotta with caramelised fig and caramel. This was an amazingly irresistible dessert. Normally I skip such desserts. But the presentation of this one was outstanding and enticing! Generally I have maximum one or two bytes of the same. But this I almost finished.
Service
Staff was curteous and pre emptive of our needs. Service was impeccable.
While I experienced the Italian fine dining, I was hosted and accompanied by the owner of Artusi Ristorante, Mr. Oscar Balcon.
I had an interaction with him. It was interesting to know him. I was talking to someone who being an Italian had settled in India and doing a business. There were few things that I was curious about.
What moved you to India?
Mr. Oscar Balcon said he and his wife liked the country. He said his wife being Indian and her businesses being here, we decided to finally settle in India some six years ago in 25 years of marriage.
Upon asking about the inspiration of opening an Italian fine dining restaurant, Oskar said he was always interested in food , wine, food clubs, consultation for food. "There was a thought on my mind to open an Italian restaurant but could not find time. When I retired. It was like Now or never."
He said, he designs the menu with Chef who belongs to the same region as his , Emilia Romagna. All dishes in the restaurant are Traditional dishes of Emilia Romagna. Only  presentation can be different.
Overall , it was a great experience. One can have a romantic time with the loved one or do business meeting. Artusi Ristorante is a good option for both. Highly recommended
Nidhi KM
© Viharin.com ®