After our visit to beautiful Switzerland, we reached Austria. I had heard a lot about the beauty of Austria. The Alps there , are magnificent and hypnotic. We were to stay in Hotel Olympia.
It was a ski resort in the midst of nature.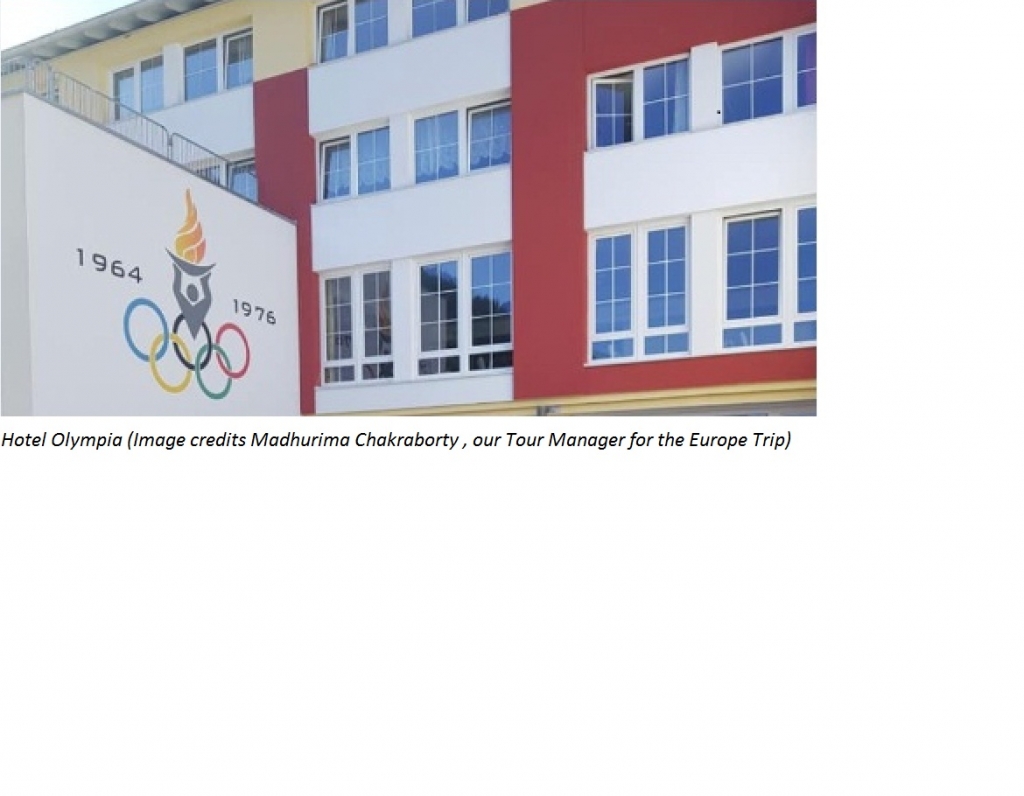 Ambiance at Hotel Olympia
At the entrance was lobby. To the right of lobby was restaurant, a big one. To the left were rooms. There was a play area for kids in the lobby where they could play video games and billiards and there were jumping games as well. A dedicated area was provided for DJ and dance . A separate area was there for parties. We had gone upstairs where our bus was parked. It was a breathtaking view from there.
Our Room
Our room was a big spacious one. It had a double bed and a single bed separately.
Our room had a big balcony facing beautiful Alps.
One could spend hours sitting there. Our bathroom too was very big.
Food at The Olympia Hotel
After settling in our room, we had our dinner. The dinner was Indian! I loved it. I had chana daal chawal, mixed vegetable. There were noodles, french fries, sambhar. It was a lovely experience to sit in the restaurant having magnetic views of outside. Breakfast too was great! We had pasta, fries , breads, cornflakes. There was a TV in the restaurant and all sports enthusiasts were glued to it.
Our experience at the Hotel Olympia
After freshening up, we had our dinner at night. After dinner, we went outside to enjoy breathtaking scenes there. It was pleasantly cold and green. Our hotel was surrounded with mountains all around.  We could see cows grazing. There was a skiing cable going up the way.
It was a total enjoyment time for us. We waited there till it was complete dark and then headed to the dance floor. Wow! We played Hindi bollywood songs. All were dancing numbers.
While we danced, kids were busy in the play area. It was fun for the full family. I would say that the resort is apt for all ages. Everyone will enjoy there. Mesmerizing natural surroundings are a huge compliment to the property.
Service
Service was good be it for the restaurant or for the property. Overall, it was a great family experience. The property is a 3* property so don't expect anything high profile. But good to enjoy with a lot of comfort. Wifi was running well in rooms.
I would recommend this property for a medium category with excellent natural beauty of Austria.
Nidhi KM
©Viharin.com®