Hill Fort Kesroli by Neemrana hotels is situated just 12 kms away from Alwar. I have been fascinated by Hill Fort Kesroli since last 5/6 years.
I wanted to experience this place since then. It was just now that I got a chance to experience the property with all my family members. So, I had gone there for two nights and three days stay. We had all age ranges starting a two year old till 60+. So each person would have respective reactions to the property.
Ambiance of Hill Fort Kesroli
First of all Hill Fort Kesroli is situated at the top of the hill having breathtaking views of farmlands and Aravalli range. The fort has got huge walls.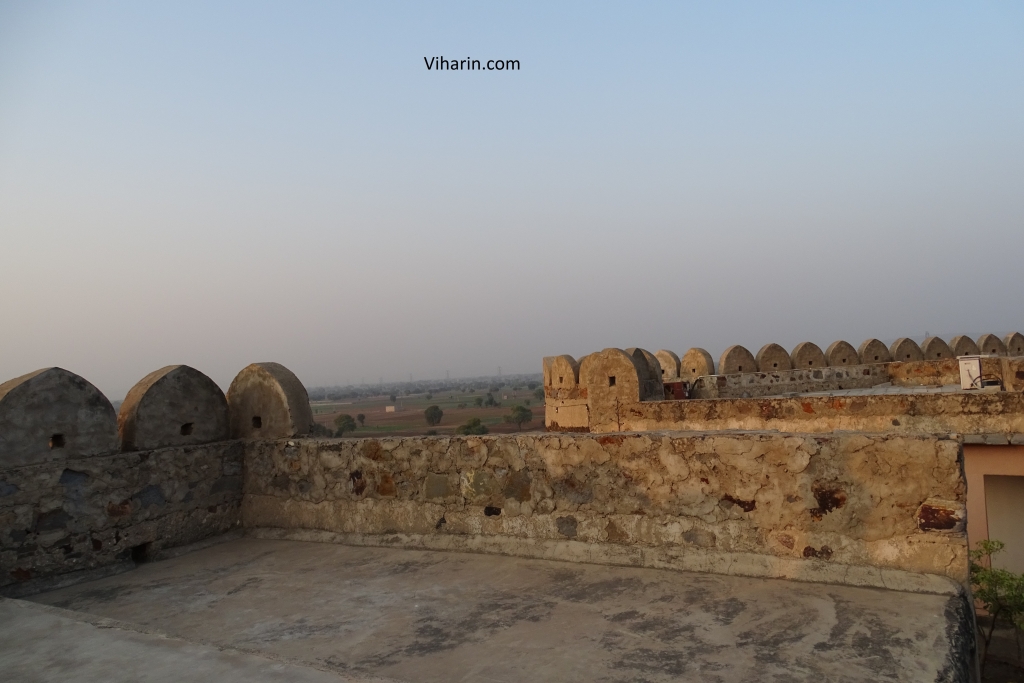 One has to climb up a little bit to get onto the main section of the fort. The whole area gives the perfect feeling of a Heritage property. Mind it, it's a heritage property and not a five star hotel or a luxurious property. It being a heritage property gives total feeling of being in a fort with big bricks all around and Kota stones on the way , at the entrance.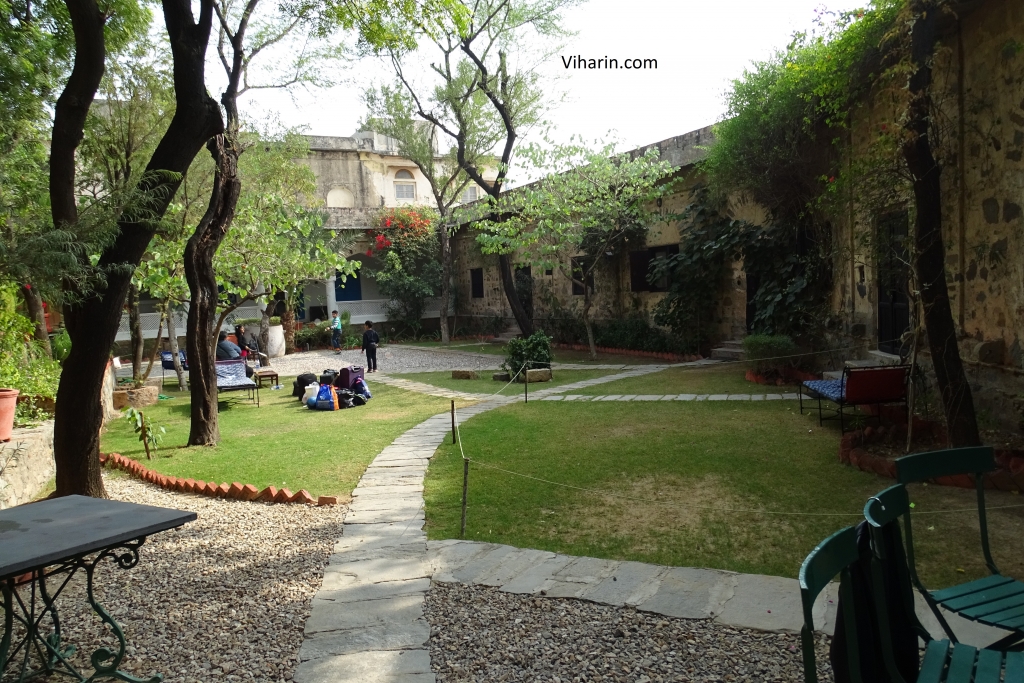 There is a little reception and by the reception there are three lawns studded with flowers. Further to those lawns is the dining area which has got garden tables placed next to the kitchen.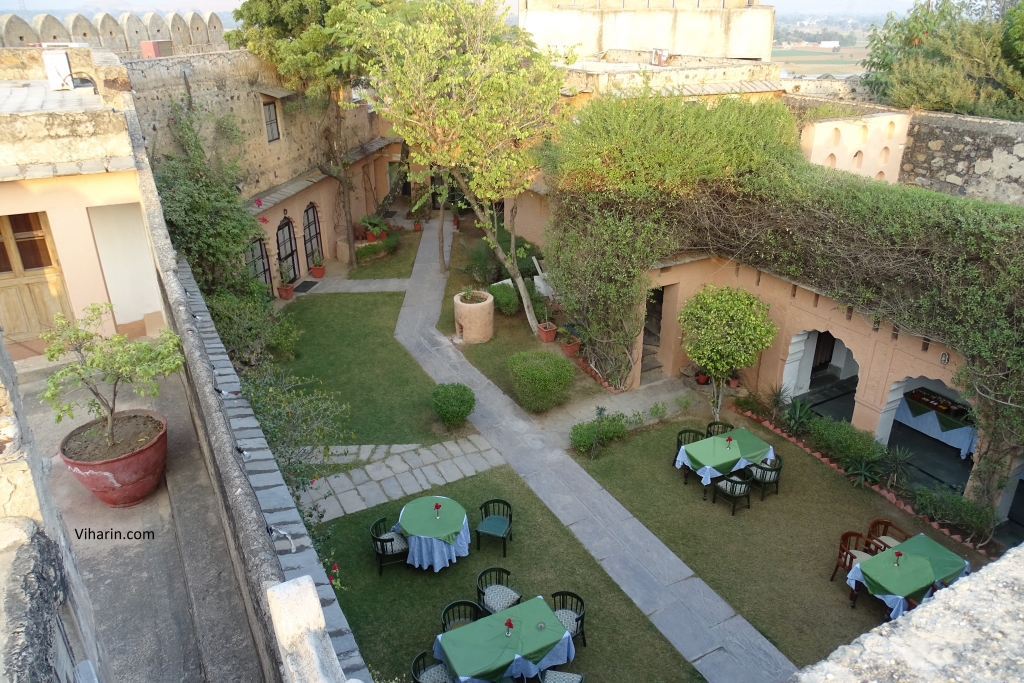 Then there is an inside dining beyond which there is a swimming pool.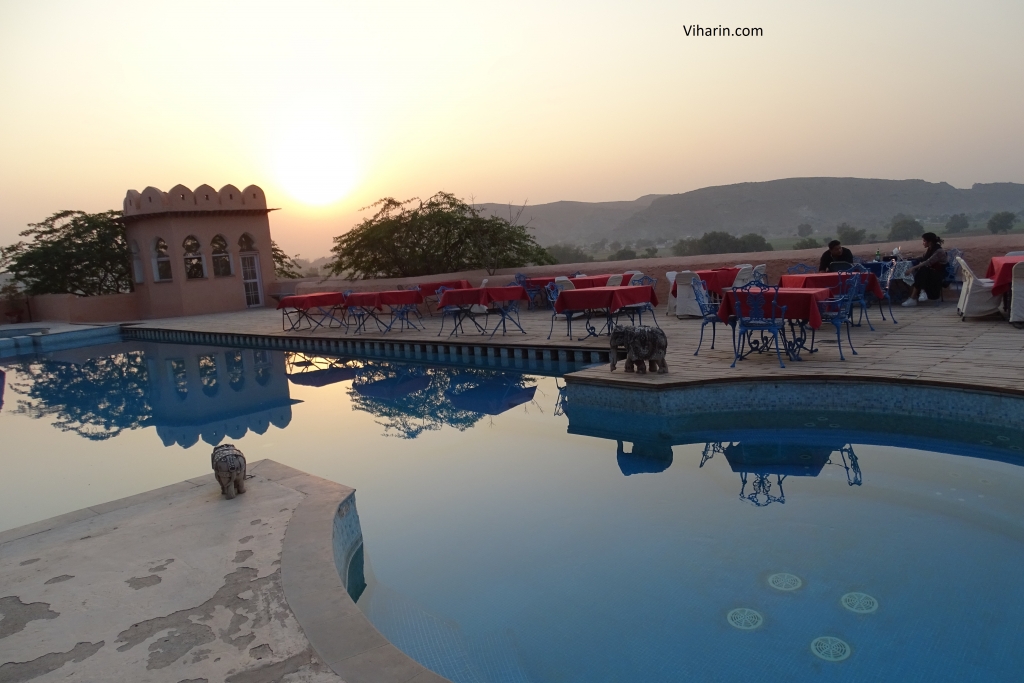 Next to swimming pool is a restaurant which has a good ambiance and has views of the farms and Aravalli range behind.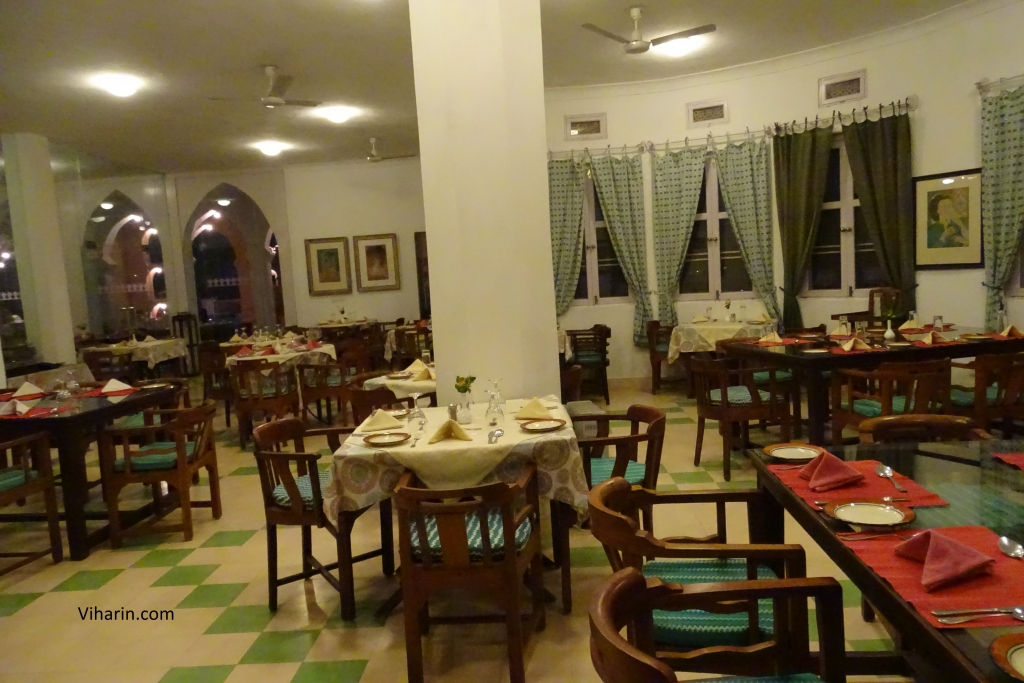 As one gets down the swimming pool, there are many rooms and a spa room. There are some rooms above the reception.
Our Rooms 
Our families stayed at Hindola Mahel , Sitara Mahal and Sugni Mahal.
First of all we had got Nirmal Mahal but we didn't like it much and authorities , Manager, Mr. Vipul there was flexible and prompt enough to give us a different room instantly.
We finally stayed at Sugni Mahal which was a duplex having a room in the basement. Both rooms had views to the farm land at the back. Each room had a separate bathroom and a balcony.
All our rooms- Hindola, Sitara and Sugni Mahal were well equipped.
There was no TV in any room. There was beautiful view specially provided at specific locations to all rooms along with tables and chairs. One could have enjoy snacks or meals there along with view.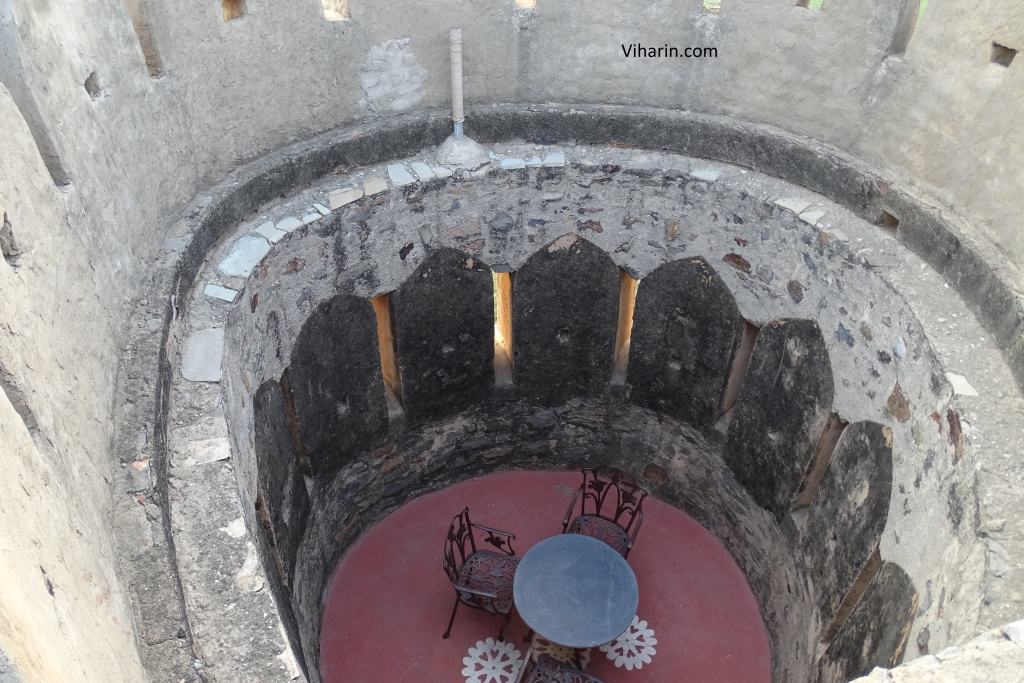 Our Experience of Hill Fort Kesroli
The property had amenities for all ages ranging from chess, badminton to cricket. Our kids enjoyed alot at the play area. They played badminton, chess, carrom board, cards. You name it you get it, Views by the swimming pool were great as well. We spent few hours sitting there.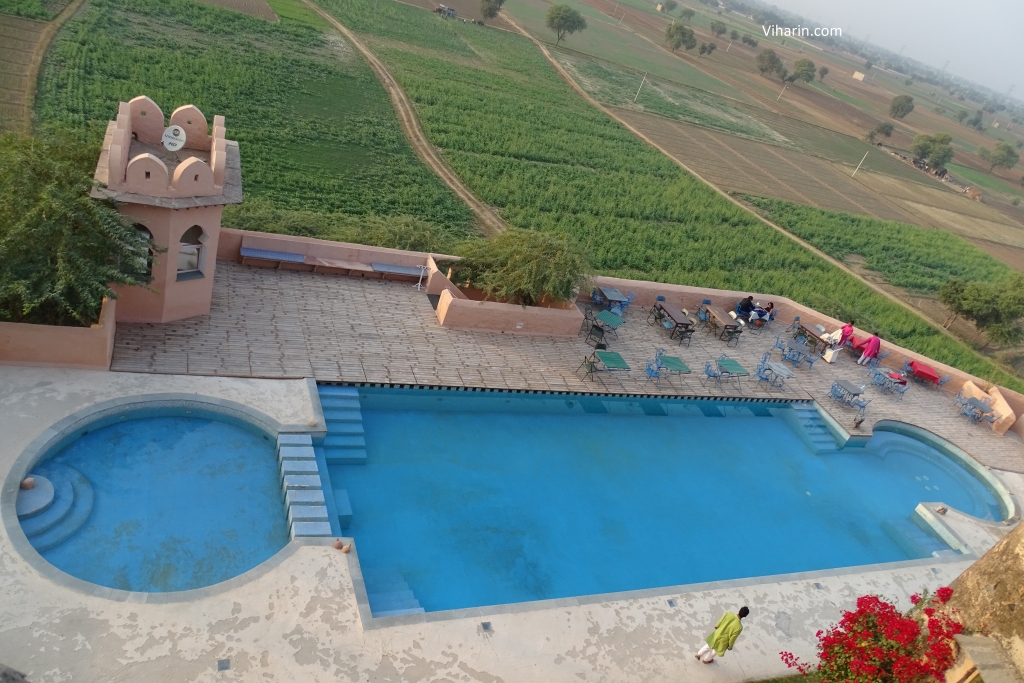 Food
We had breakfast that had a lavish spread on both days. We had enormous choice both days like Vermicelli, Poha, Idli sambhar, Parantha, Poori Bhaji, Cur fruits, raw fruits, tea, coffe, bread ,cornflakes. I must say each and every dish was out of the world. We all relished the food we had there. Poha was so good and soft that I had to ask Chef Arun Sharma to tell me its recipe.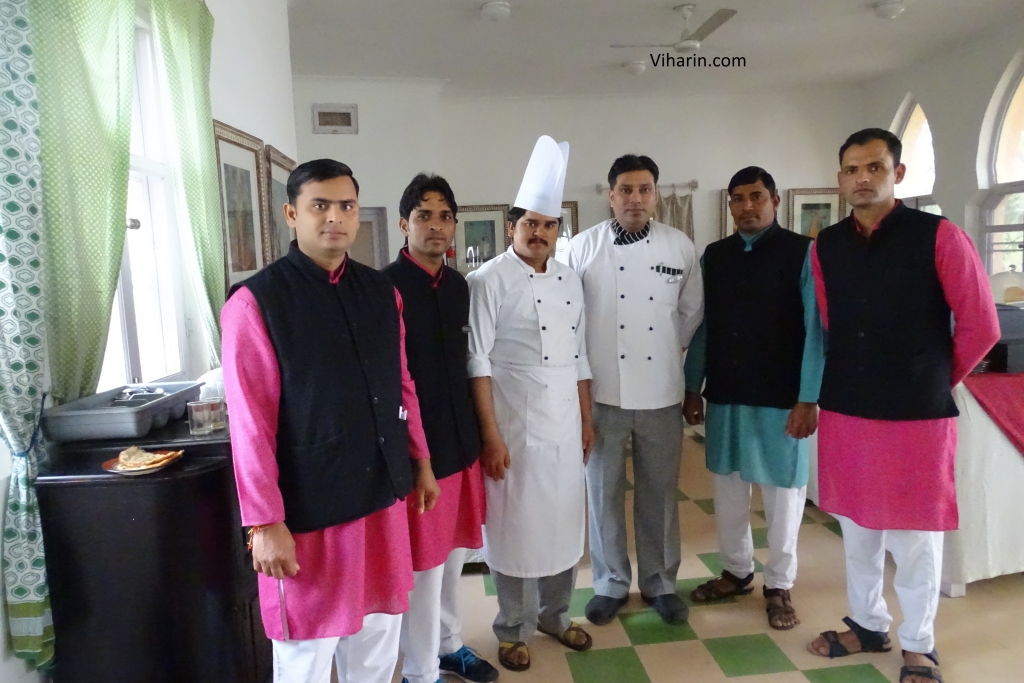 Aalu parantha is of the kind that I have never had such a delicious parantha anywhere in Indian restaurants till date. It was fully stuffed with masala and every bite of parantha gave me a taste of masala in it. Chef Arun has a great team. It was evident from the preparation and presentation of dishes. Chef's passion for cooking was evident from the preparation. He has 15+ years of experience in the industry and has worked with Laxmi Vilas in Udaipur. At dinner, we had Dal Bati Churma whcih was lip smacking. It was neither spicy nor oily but crisp and tasty.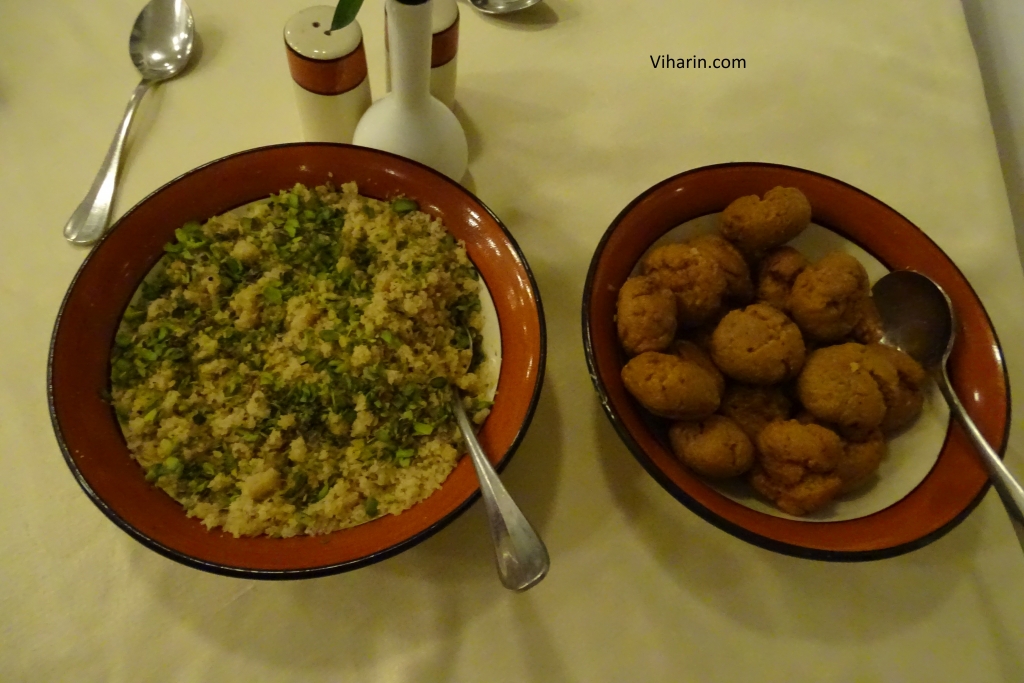 We had Lal Maas which was equally delectable.
Buffet had a good spread with salads, snacks, main course and desserts.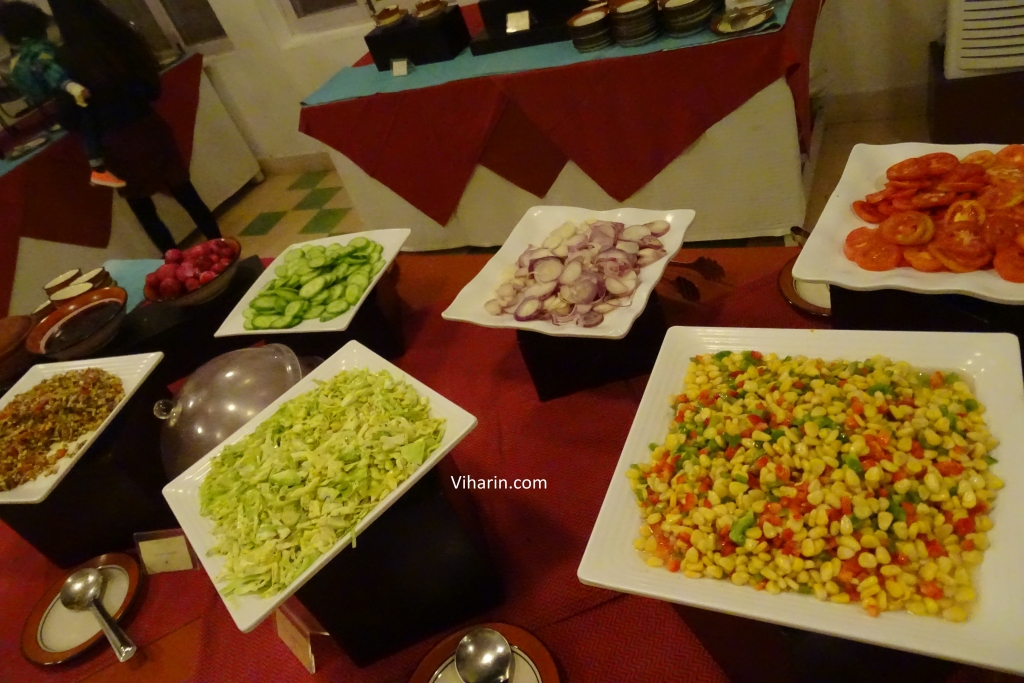 Dishes like chicken malai tikka, aalu tikki, pasta were mouthwatering.
Kids enjoyed their plain aalu tikki and pasta.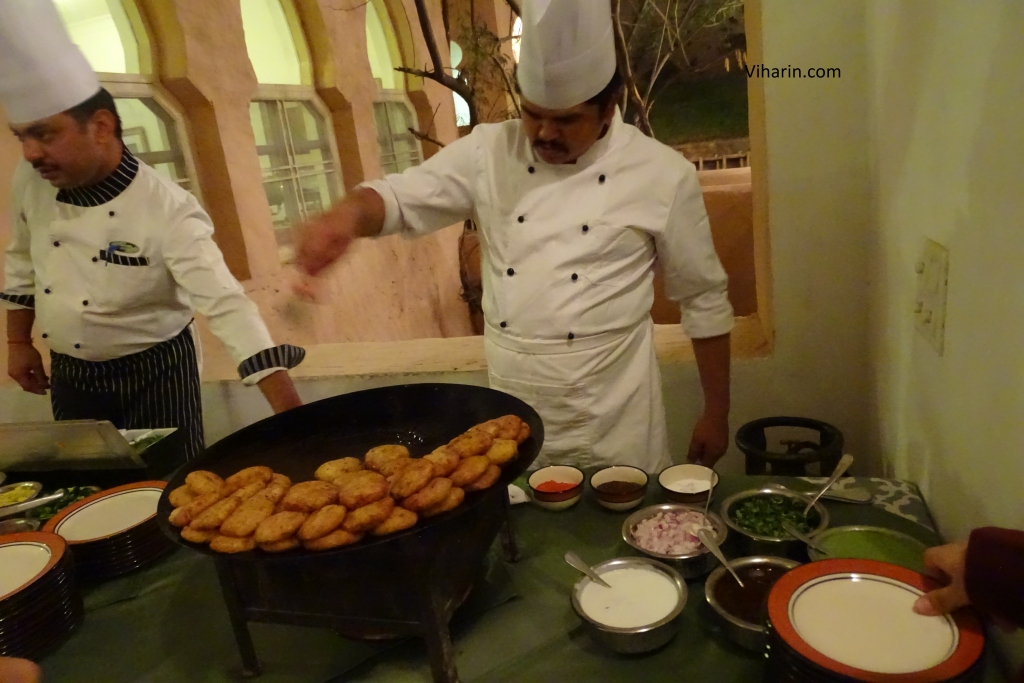 I just loved all the dining experience there. Infact kids and other family members too enjoyed their meals.
Service
Staff was always smiling and courteous. They provided impeccable service be it in room service, at restaurant or at the reception.
Cultural Programs
We enjoyed our evening of cultural program where there was a presentation of fire stunts and folk dances. It was a nice show. Rajasthani folk dance is mesmerizing. The dress of dancers and their ornaments are catchy and interesting to watch as they swirl around .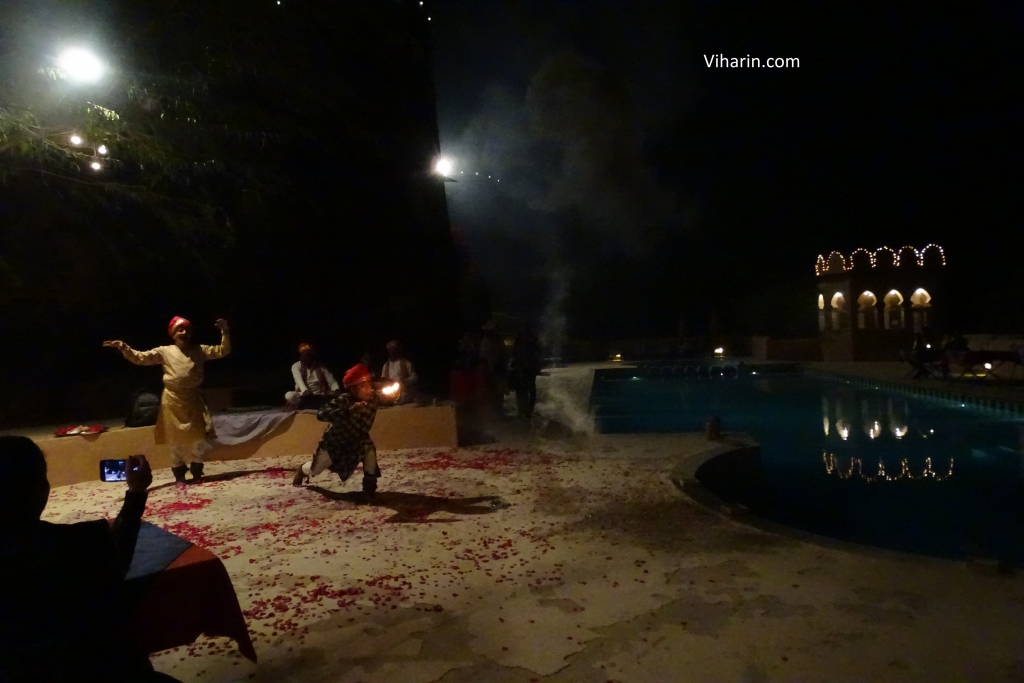 Tips
Its a heritage property so, do not expect the coziness of a luxury hotel
People having problems with knees who cannot climb stairs should take rooms at ground floor. Since restaurant is at ground floor, it would avoid climbing of stairs
All rooms have excellent views so any one would do
Our overall experience was great and enjoyable.
Nidhi KM
©Viharin.com