Since the time we were in Switzerland, we kept doing one or the other gripping sightseeing destinations. Even views of the countryside and important towns were such that we were totally hooked to the window of our bus all the time. We visited Rhine Falls in Zurich, Switzerland.
Rhine Falls is the largest water falls of Switzerland and Europe. It lies in between the cantons of Schaffhausen and Zürich.
We all were exhilarated when we reached the place. It was such a beauty from far. Upon reaching the exact, place, we learnt that we can do boating and reach almost the bottom of falls. Oh, you can't imagine, we were yearning to ride the boat!
There are different types of boat rides- 3 minutes, 15 minutes and half an hour. In 3 minutes, the boat takes you straight till almost the bottom of the Rhine Falls and will come back. In 15 minutes, the boat will take you till the bottom of falls and move around for a while and then go nearby falls again to come back. Half an hour boat takes the full ride till the place from where the falls is forming. And you will just love it.
We took 15 minutes boat ride and it was fantastic! Loved the experience. The water was milky white and the mist was flowing in the air. We were in the group and all kids were enjoying this nature's beauty. When the boat took us almost just below the falls, we were awestruck.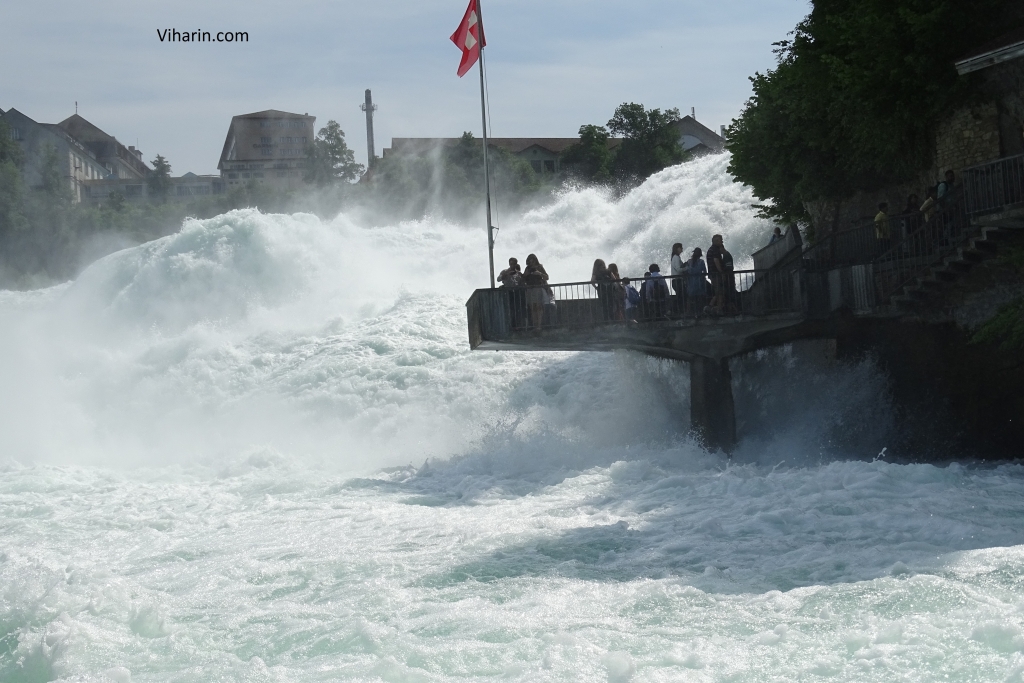 Gush of water was splashing on the water bed below and the mist was dancing all around. Then the helmsman took us around the falls and brought us again near the falls but not that near. We really wanted to go under the falls again, but we didn't. That time, we felt, 15 minutes were too less to see the falls. I believe even half an hour would be less for nature lovers.
I could easily spend my full day just gazing at the falls and eating. There were shops for souvenirs, restaurants. Some restaurants were serving Indian snacks as well. We spent around one hour at the falls. Given a chance again, I will again visit the falls. Highly recommended.
Nidhi KM
©Viharin.com®