I had gone to Asia Alive, Hilton Double Tree, Gurgaon to experience the festival – Gharana – e – Rampur with my father.
The festival was curated by Osama Jalali and Nazia Begum.
The hospitality by Hilton Double Tree began right from my doorstep. We were taken in a comfortable cool cab which was driven by a courteous driver. Upon reaching, silver utensils and accessories welcomed us! It looked like a regal affair.
Soon we were greeted by none other than Osama Jalali. Festival of Gharana-e-Rampur was going on.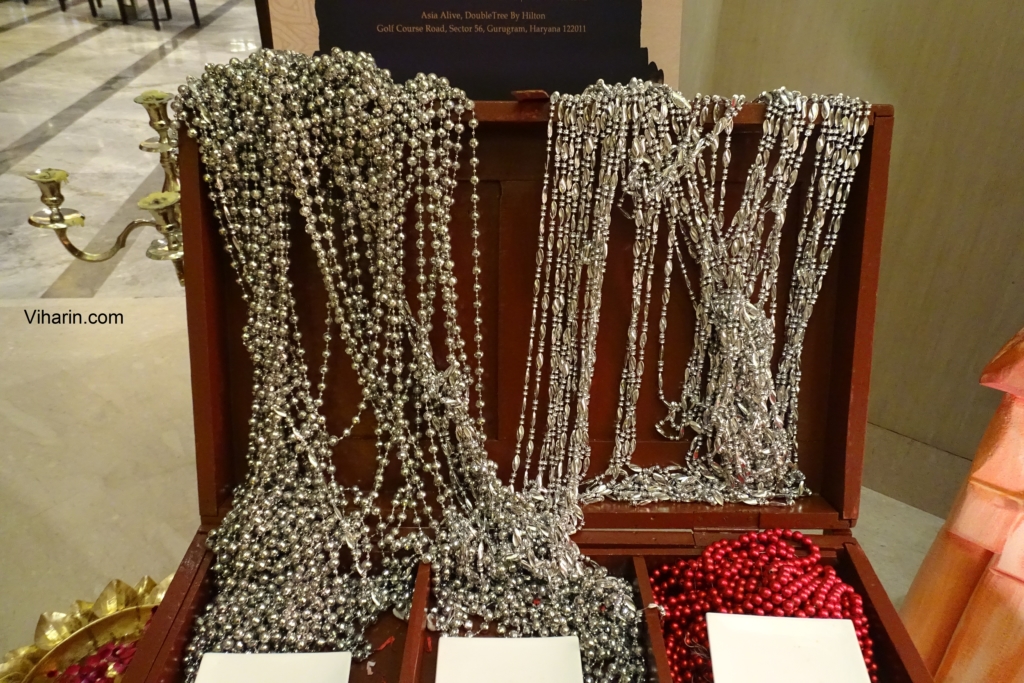 Ambiance
There were silver ware decorated nicely.
Copper buckets and other utensils were displayed and filled with spices.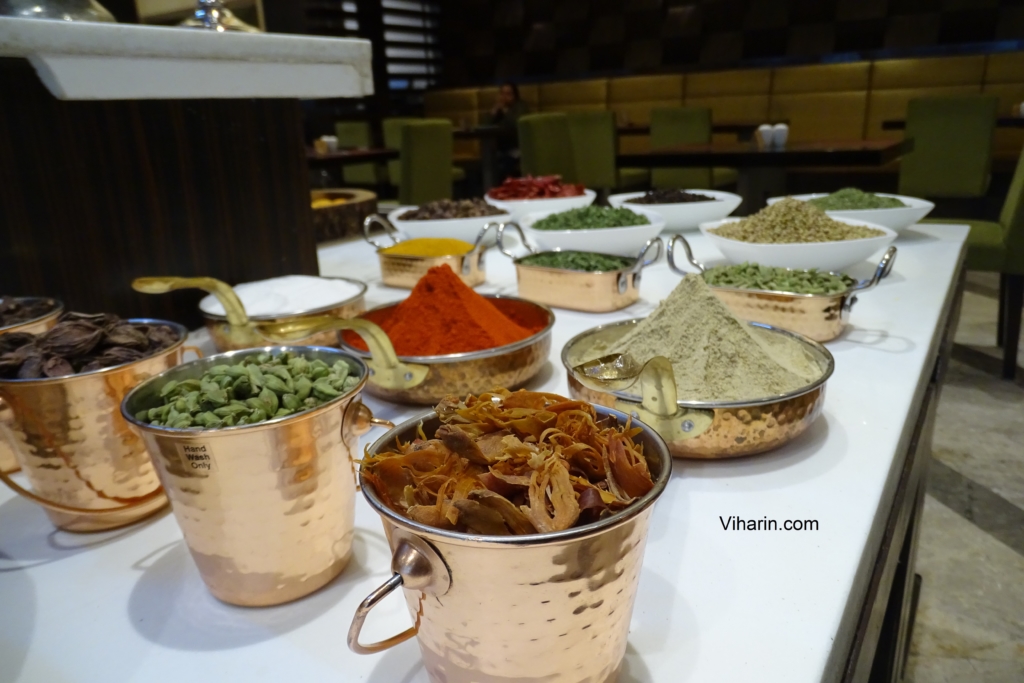 A clove garland adorned a beautiful silver urn.
All of this looked so magnificent and took me to the royal era of Kings and Queens.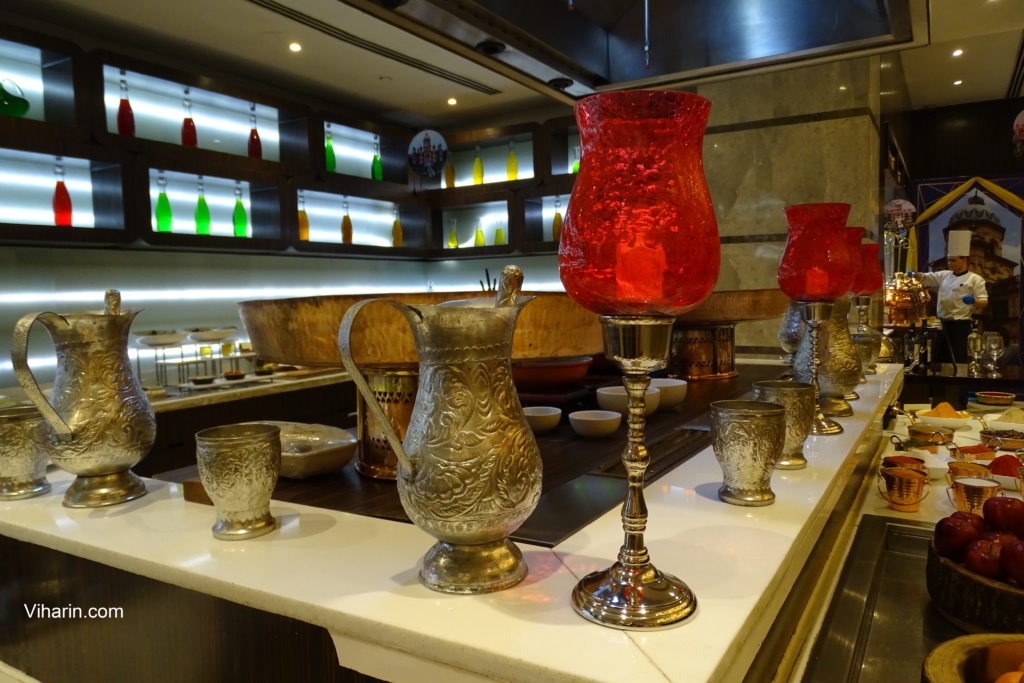 There were about five sections in the restaurant. The seating space was good to provide enough privacy to guests.
Food
We had Meva mava ki Tikki which was crisp and had nuts and vegetables finely chopped. I could feel the ingredients. This dish satiated my taste buds. Kathal ki Shammi was a kebab which I  never thought could be so delicious. It was a treat indeed. Sufiana paneer tikka, Kachche kele ki Shammi kebab were soft.
Yakhni Tali boti which was twice cooked lamb meat in Indian native spices. It was delectable. Kachche keeme ki tikkiya which was minced meat patty cooked in regional spices was mouthwatering. I am actually drooling while writing. Galouti kebab, Chicken seekh kebab were great! Nargisi seekh kebab had a perfect blend of spices and we enjoyed savoring them. Each dish tasted different and my palette loved it. My father too enjoyed these snacks. Most importantly, there was no excessive oil in any snacks.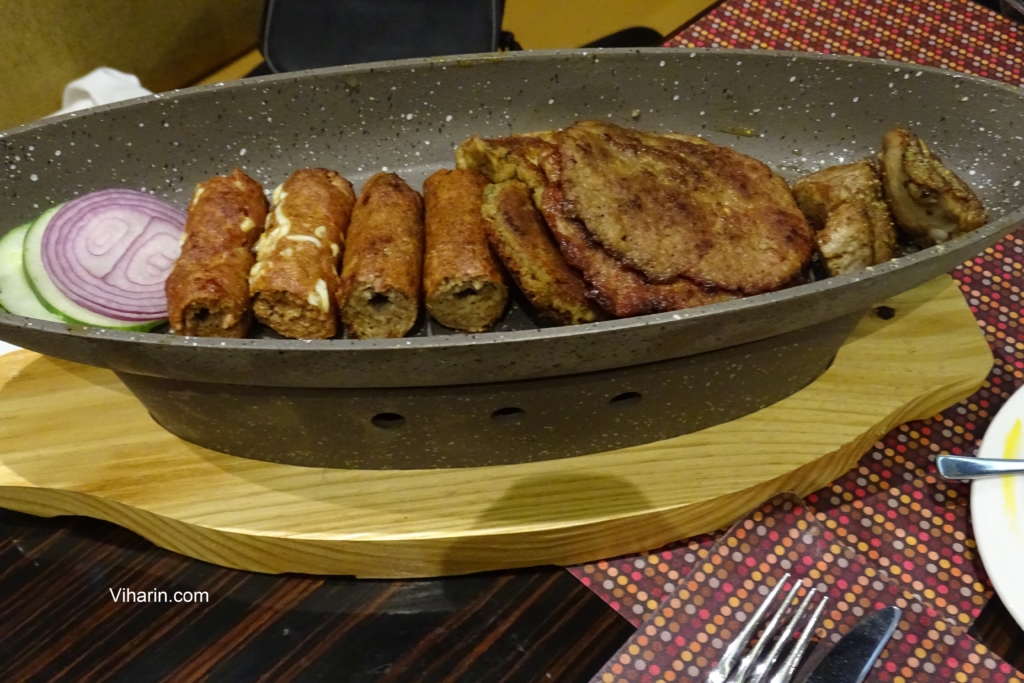 Main course had 6-7 dishes. Food was like homemade food. It was a gala time we spent dining. We had Taar Gosht which was a traditional Nawabi preparation. This was mind blowing. Hari Mirch Keema that I had was my favourite. It was minced lamb meat cooked with fresh green chilies and Indian native spices. Rampuri Khichda was a combination of several daals and rice.
We learnt that all of these dishes were prepared by Osama Jalai and Nazia Begum. They were providing personal attention to guests. Arbi ka Salan was tasty. I loved it. None of these dishes had tomatoes. We didn't even miss them.
Desserts were excellent! One has to experience desserts to be able to appreciate the creativity of Gharana – e – Rampur. Can you imagine Having Aalu Ka zarda? I could not even think Aalu can be used for desserts! There were finely chopped thin pieces of potatoes that too orangish! It was grated potato , sugar , nuts and clarified butter. Gosht Ka Halwa was another pleasantly surprising non vegetarian dish. It was a traditional preparation of lamb cooked with milk and nuts. Since they knew we have non vegetarian, they kept the ingredients of the dish secret and asked us to guess.
But, we could never ever guess, it was mutton. I must say, it was delicious!
Service was great. Mr. Osama Jalali, Executive Chef Deepak and Swati Saini, Marketing Manager, ensured we were well treated.
Overall, a great experience!! Highly recommended.
Nidhi KM
© Viharin.com ®