We had gone to Karma Lakelands in Gurgaon sector 80 for a weekend get away. We reached there around four in the evening. The beautiful property which was spread close to 300 acres having lake all around, stole our hearts! We stopped by the Lake for sometime to see fishes.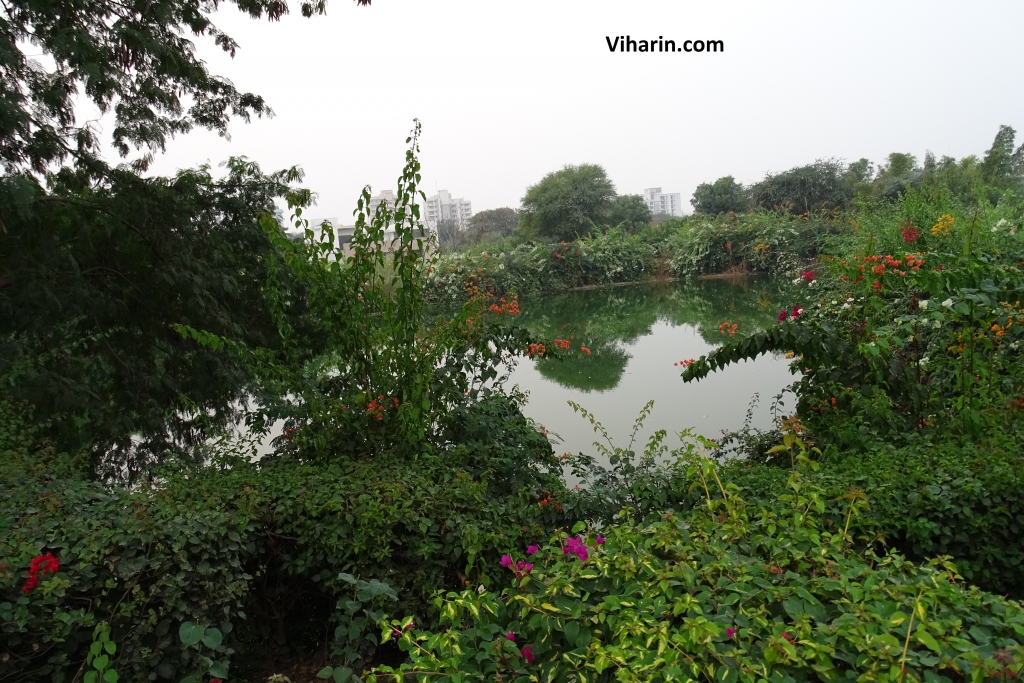 Karma Lakelands has a nine hole golf course. As we entered  the premises, a greenbelt with colourful flowers and plants welcomed us. Now, what will be your reaction if along with this greenbelt, you would suddenly see some 10 to 12 peacocks enjoying their time? Well, for a second, we thought that we are at Sariska National Park!! There is a long driveway till you reach the reception. Journey of the drive way kept us gripped on the road as every road had a new view and plants!!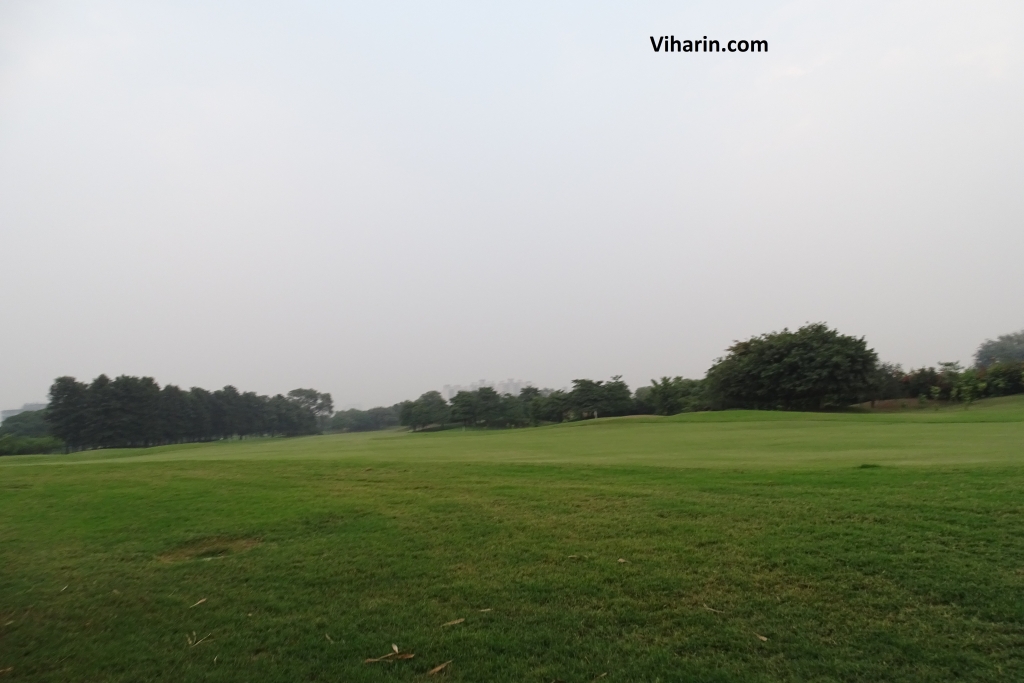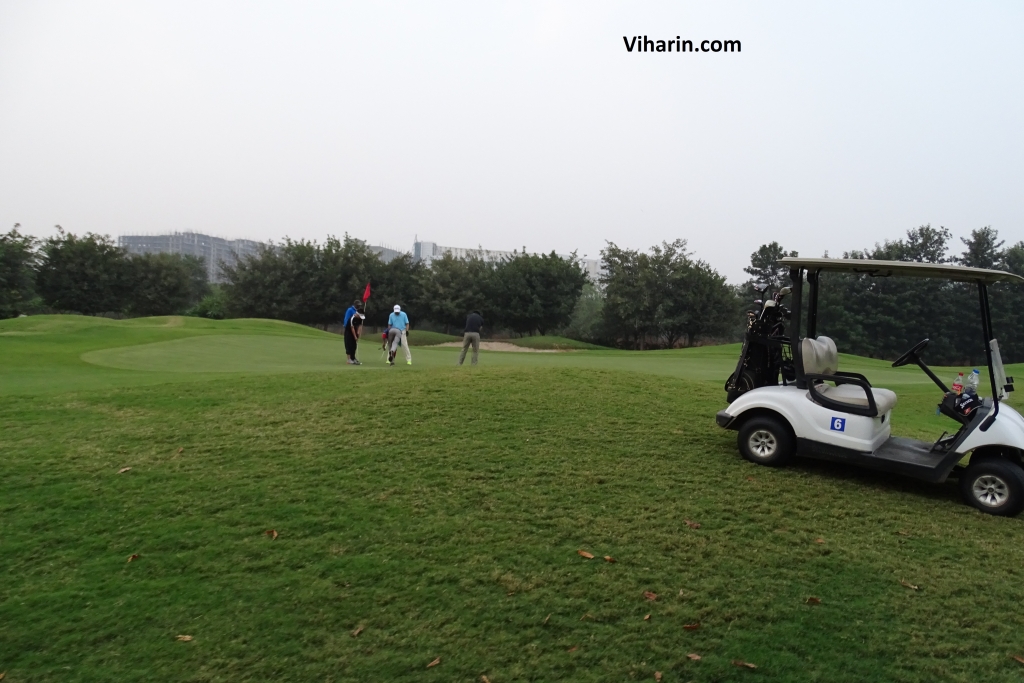 After you enter the main gate, you would see a directive to Chalets which are provided on rent to guests. Each of the Chalet has got two floors.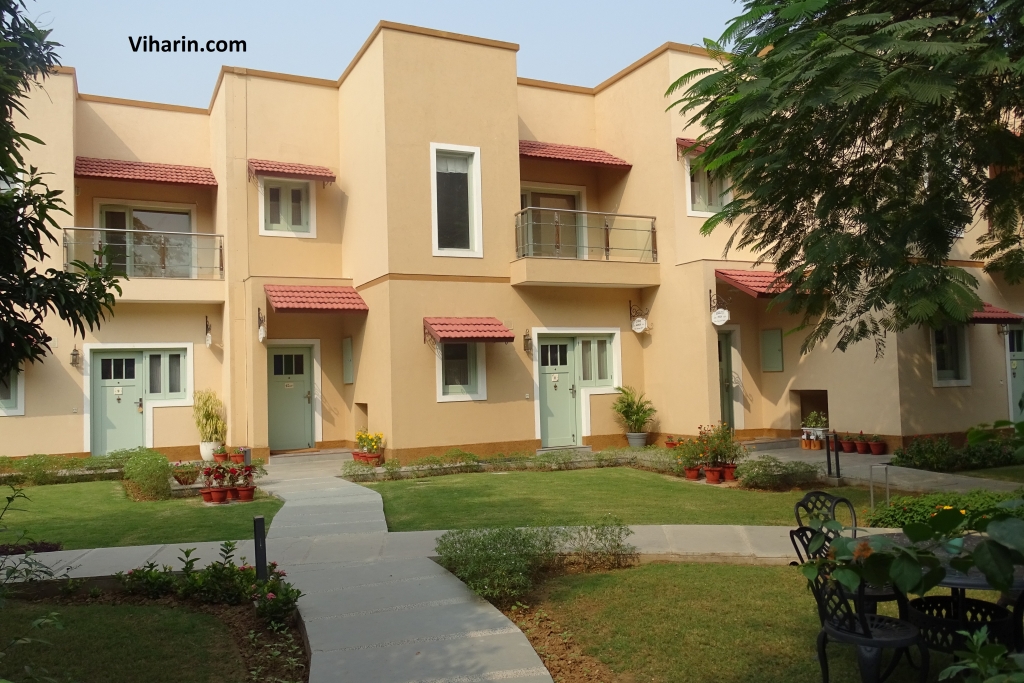 One is the ground floor where one can enjoy the dining and living room along with a little bathroom.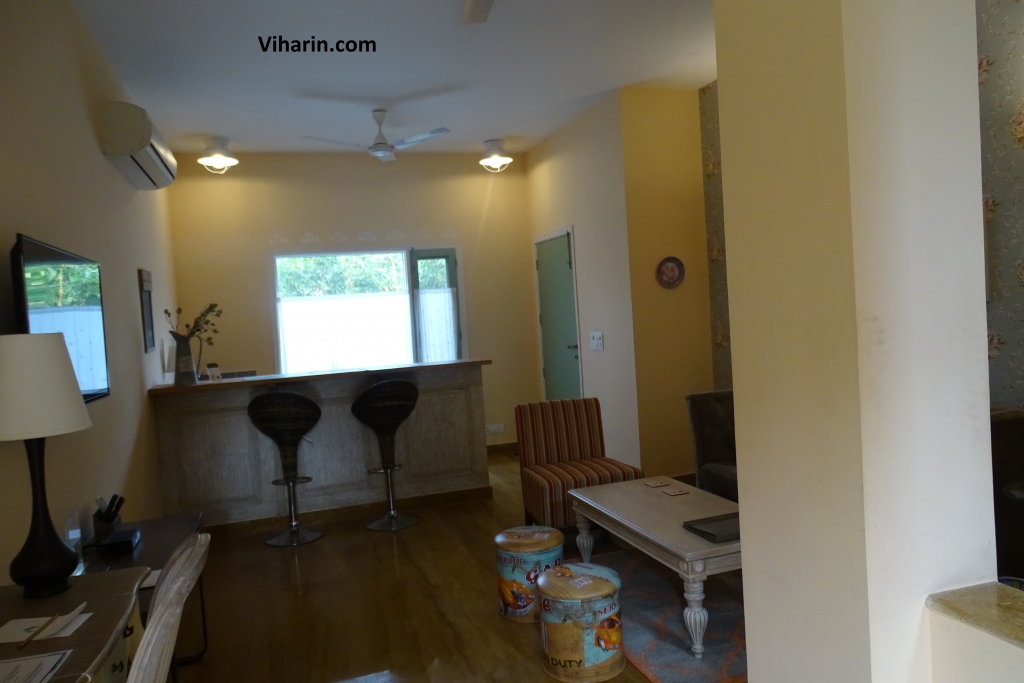 There is a courtyard at the back which is beautifully maintained and has got lush green garden along with that there is a swing with some sitting arrangement.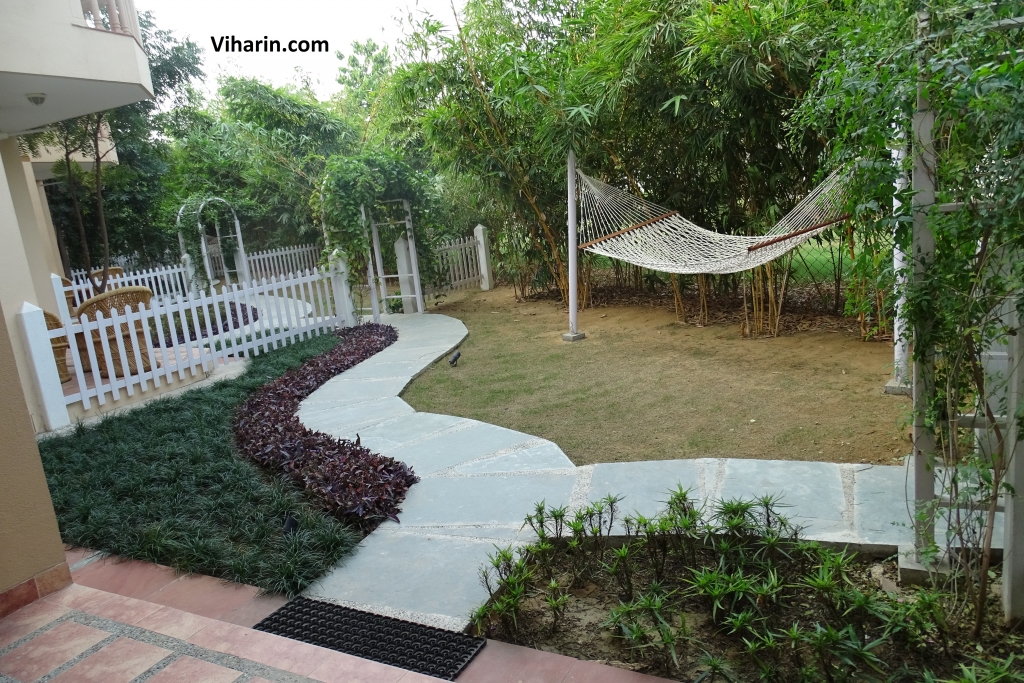 Above floor has got two rooms each having an attached balcony.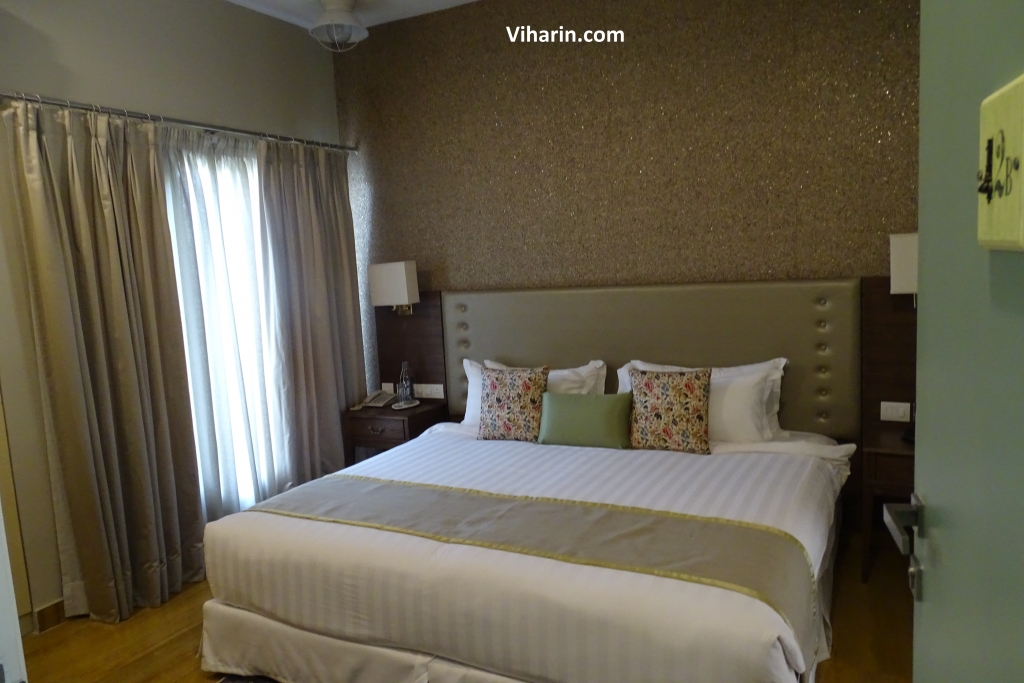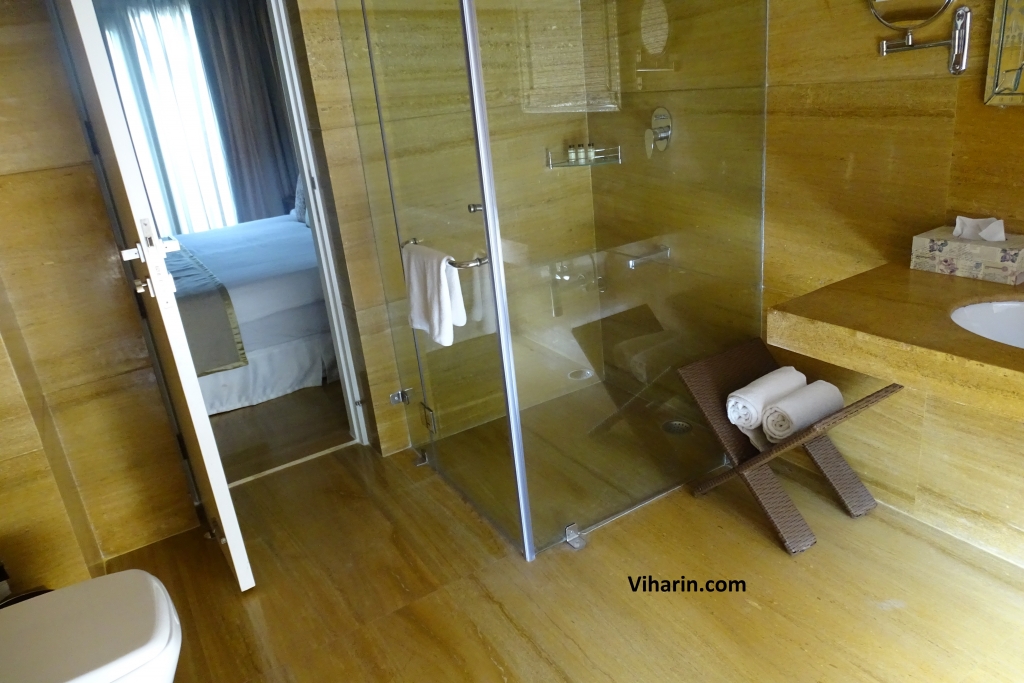 Many of villas have been sold to various NRIs or builders in India and some of the villas they rent for family getaways. Each Villa is about anywhere between  18,000 to 24,000 yd.² which is a huge space and it includes front big Veranda with a lawn and parking space for three or four cars. At the back there is a big space where one can sit and enjoy. Each Villa has got two floors- ground and the first floor.
Our Villa at Karma Lakelands
Villa we stayed in had beautiful interiors with one bedroom on the ground floor, a big dining space and a big drawing room. The drawing room, dining room and bedroom overlooks the garden outside at the back.  The ground floor has a well equipped kitchen. At the entrance there is the lobby and stairs going down to the basement and up to three rooms.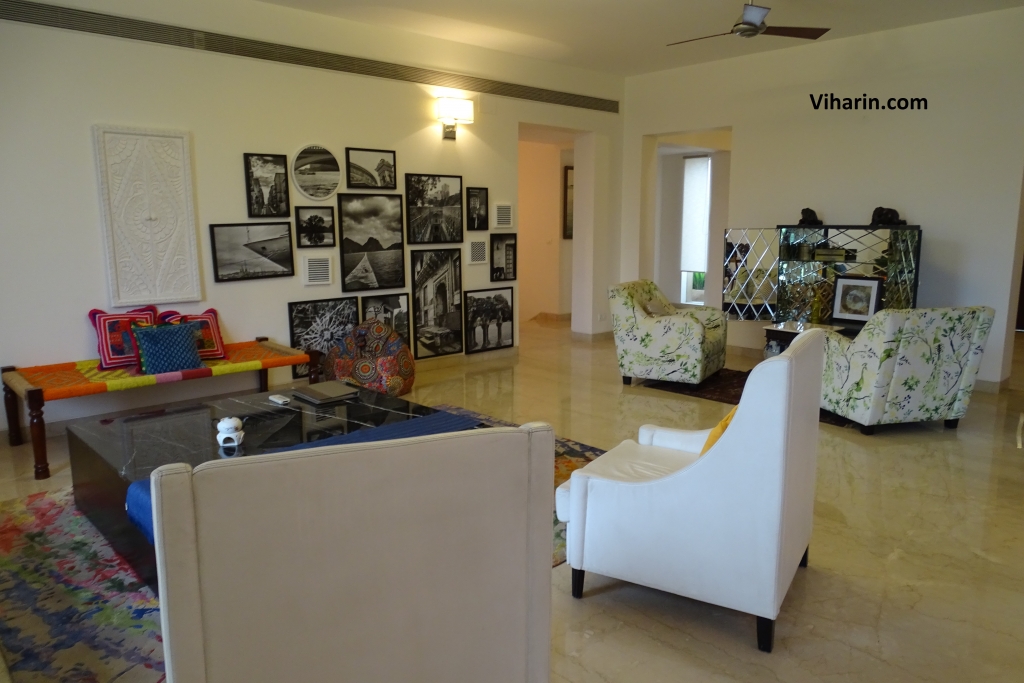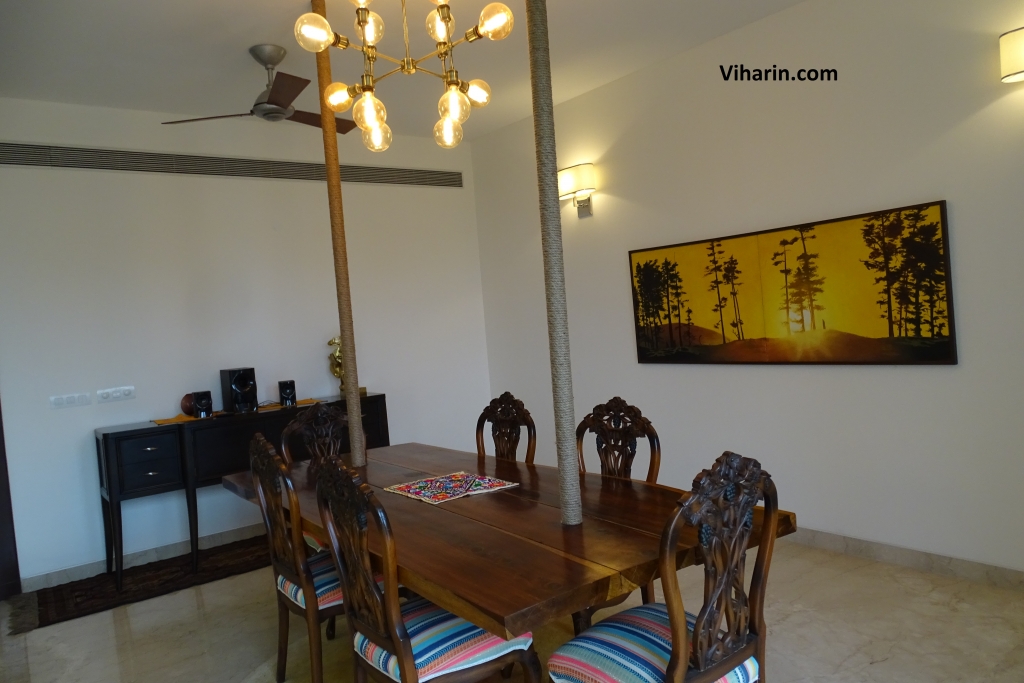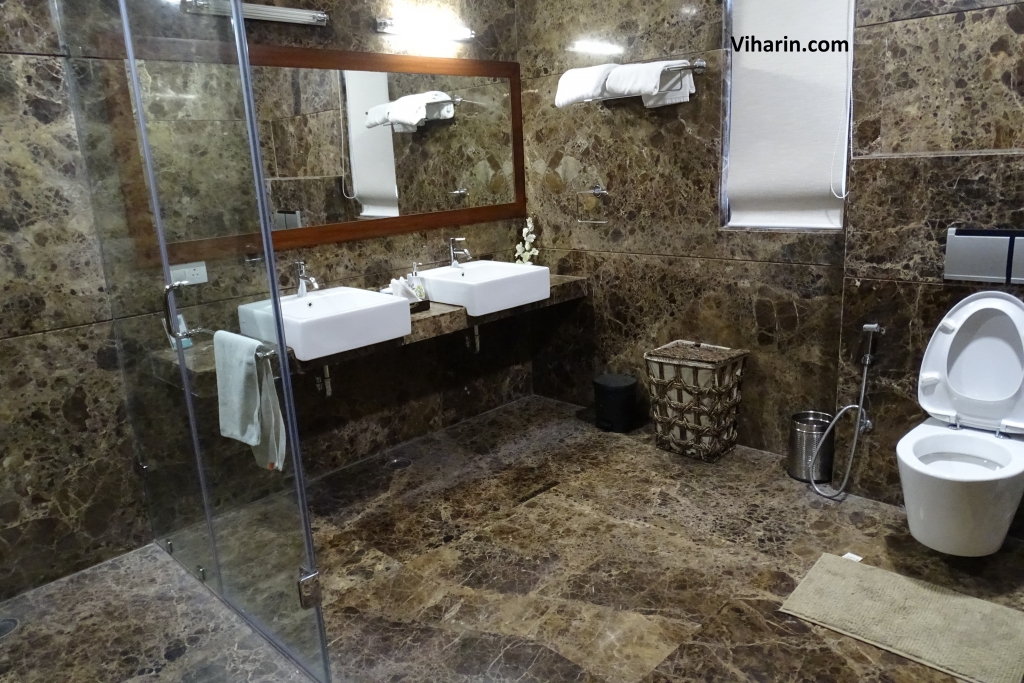 Bathroom had an attached dressing room with big , well designed cupboards.
Basement had a play area having carom board , chess, playing cards and more. There was a servant room as well.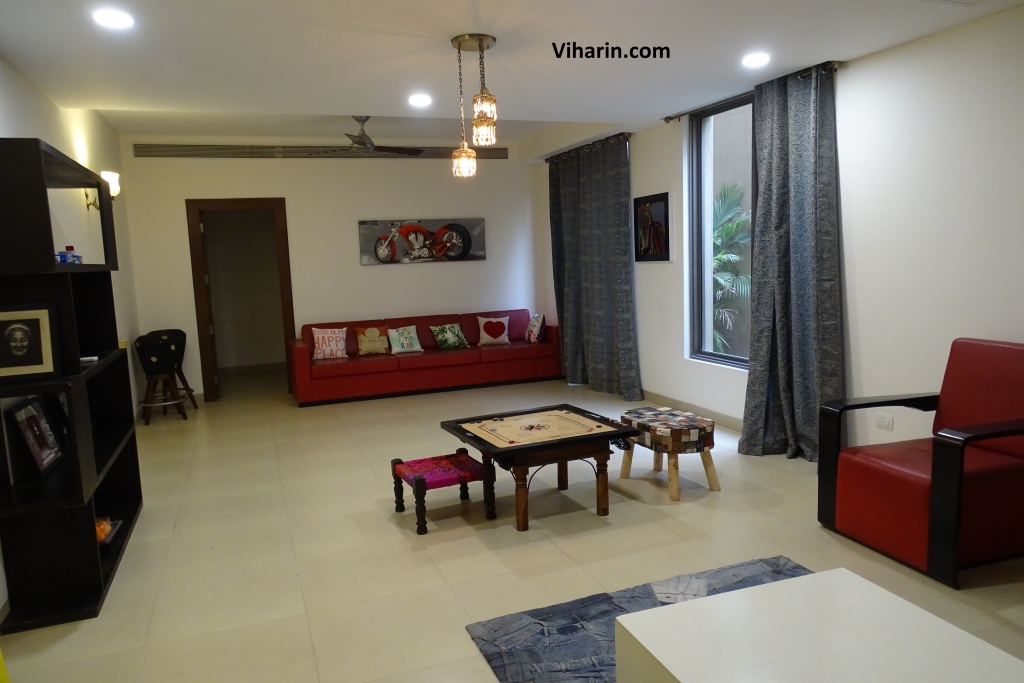 There were three bedrooms on the first floor having a common lobby.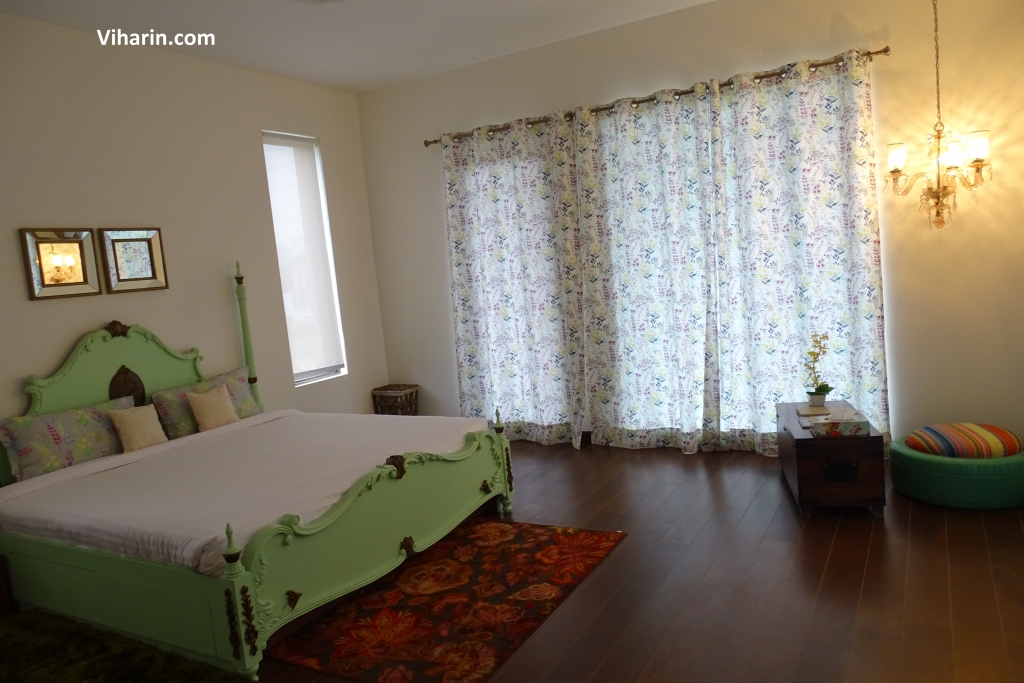 All the three bedrooms had balconies where one can enjoy the view of the golf course.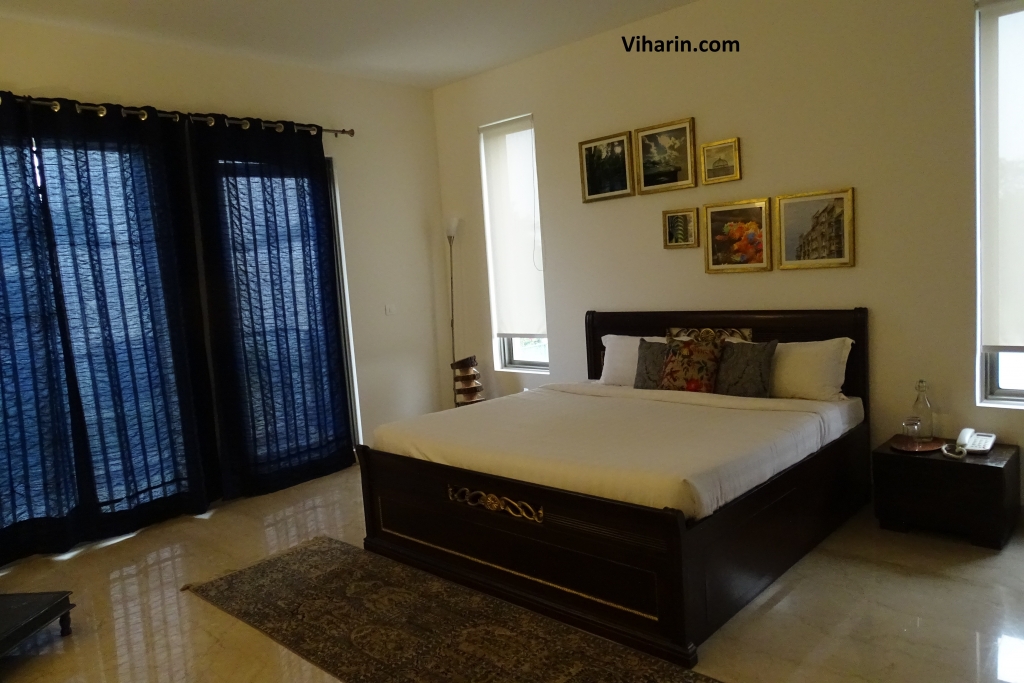 Our experience at Karma Lakelands
The property was really nice and we spent good amount of time on swing in our villa, did some sun basking. It was a very nice experience at the property. Our villa was spic and span clean. All amenities were present in the villa ranging from phone till the microwave oven .
Service by the staff was impeccable.  Our needs were immediately met.
I saw the villa number 45 and it was facing the lake and the it was beautifully made with splendid interiors and sprawling Gardens and  sophisticated furniture. The design of the Villa was posh and lovely. I could understand the royal taste of the person who designed the Villa.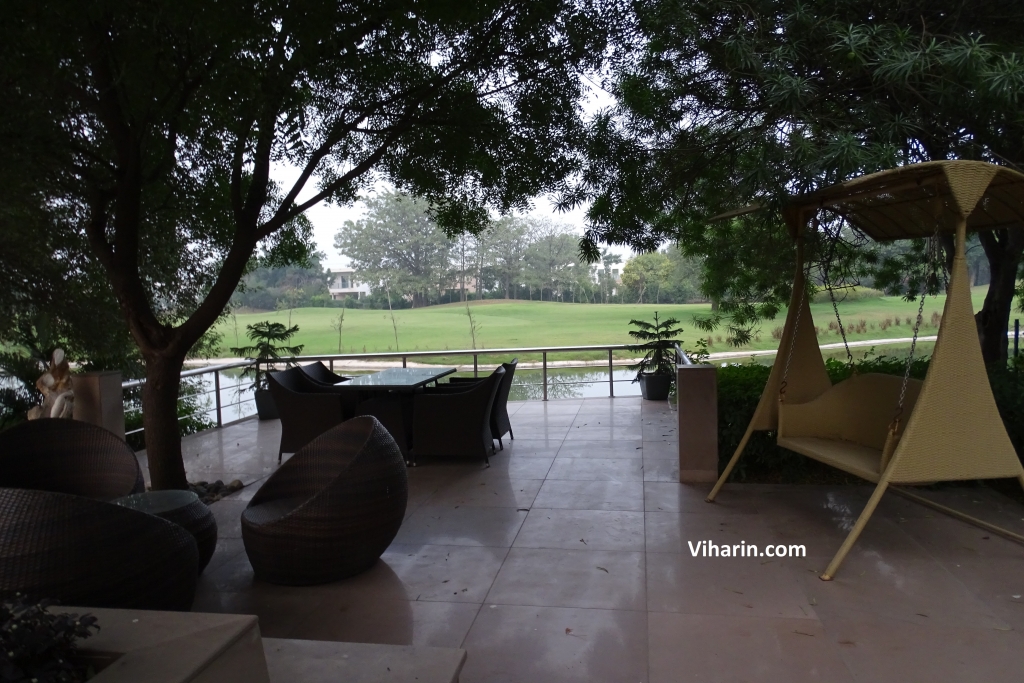 We had a lovely stay at the Karma Lake Lands.   There is a poultry farm and I saw some 14 to 15 cows. There is a separate area for rabbits . Bee farming is being done.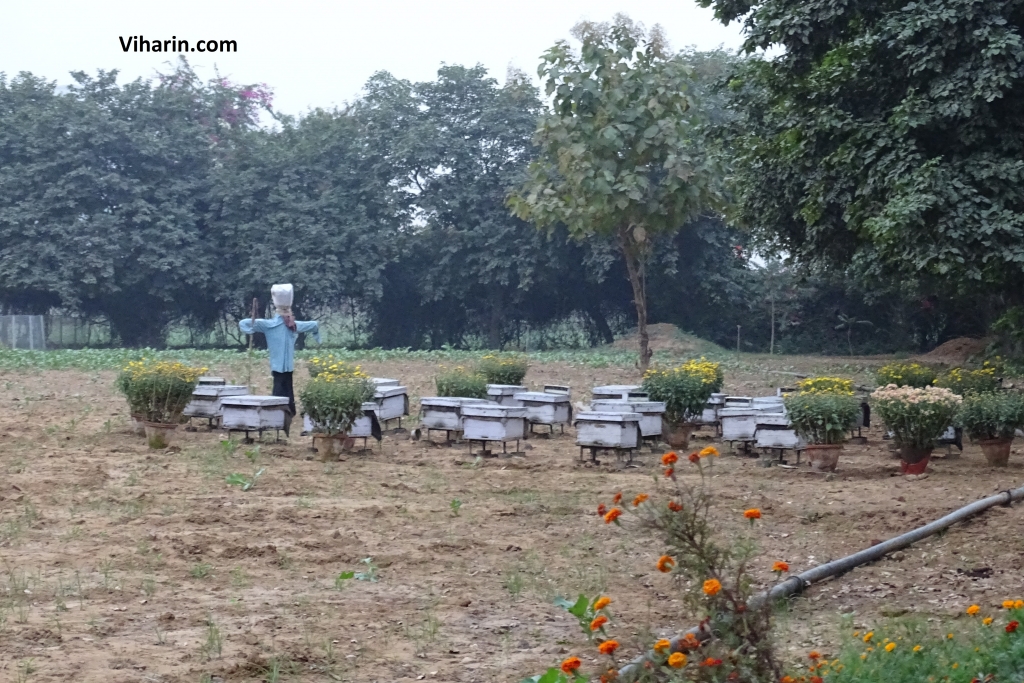 I can see that Mr Ashwini Khurana is doing some real good stuff which is making a difference not only in his life but also the lives of the employees and also that he is trying to bring positive changes in the ecosystem in Gurugram.
The Klub Karma has many playing options like cricket , badminton. Lawn tennis can also be played.
Kids played all the games they could like table tennis, squash, lawn tennis and even cricket.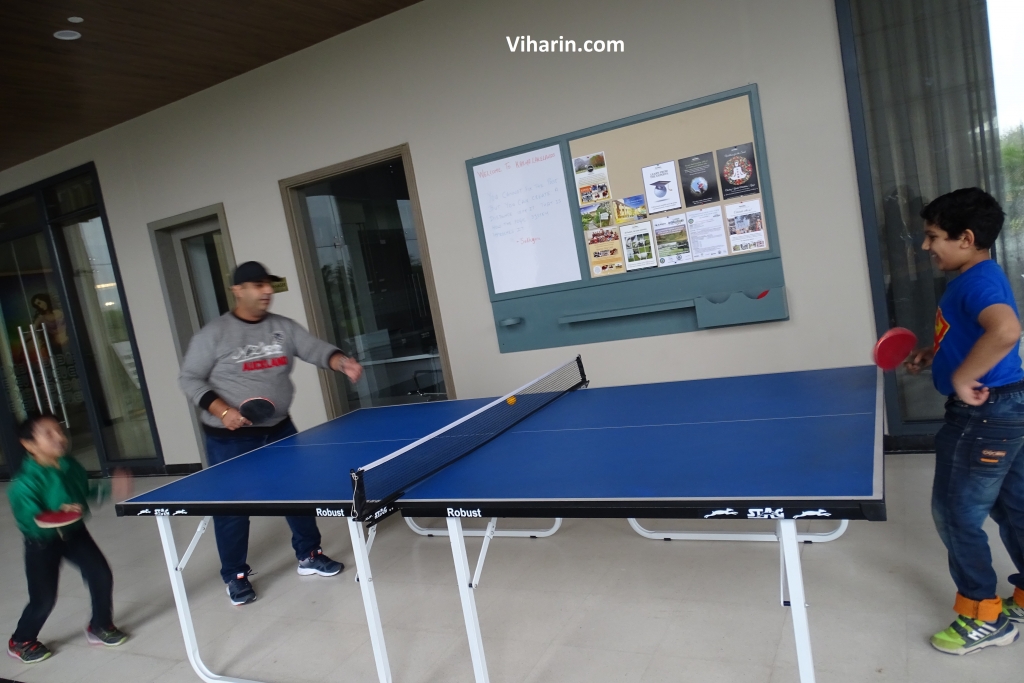 Carom board was their favorite pastime. There is also a gym, indoor swimming pool, sports shop.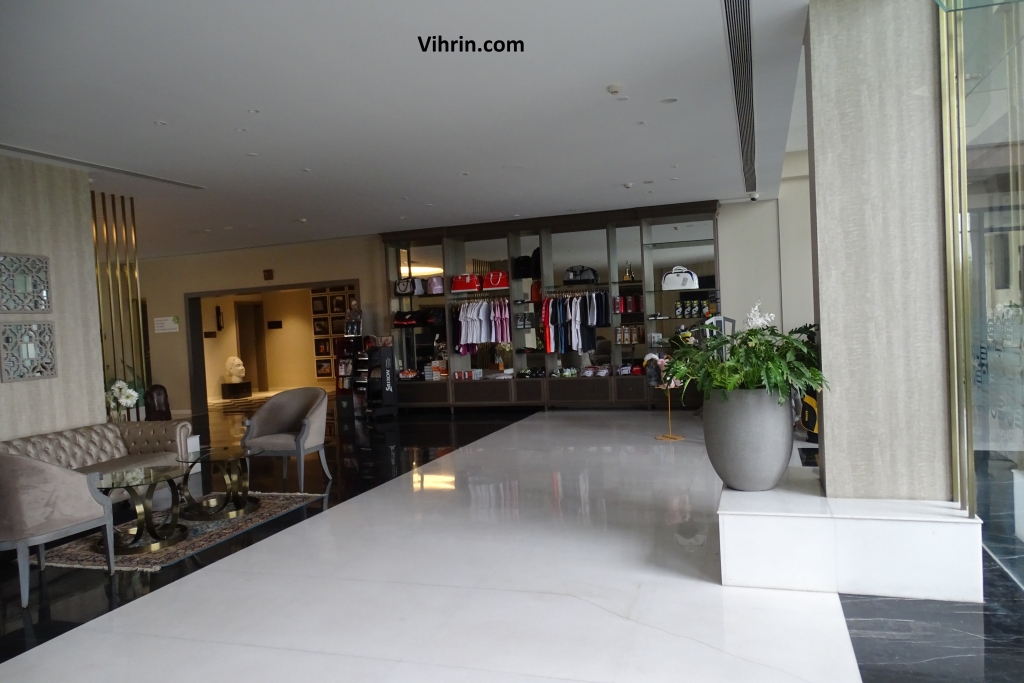 Gym is well equipped.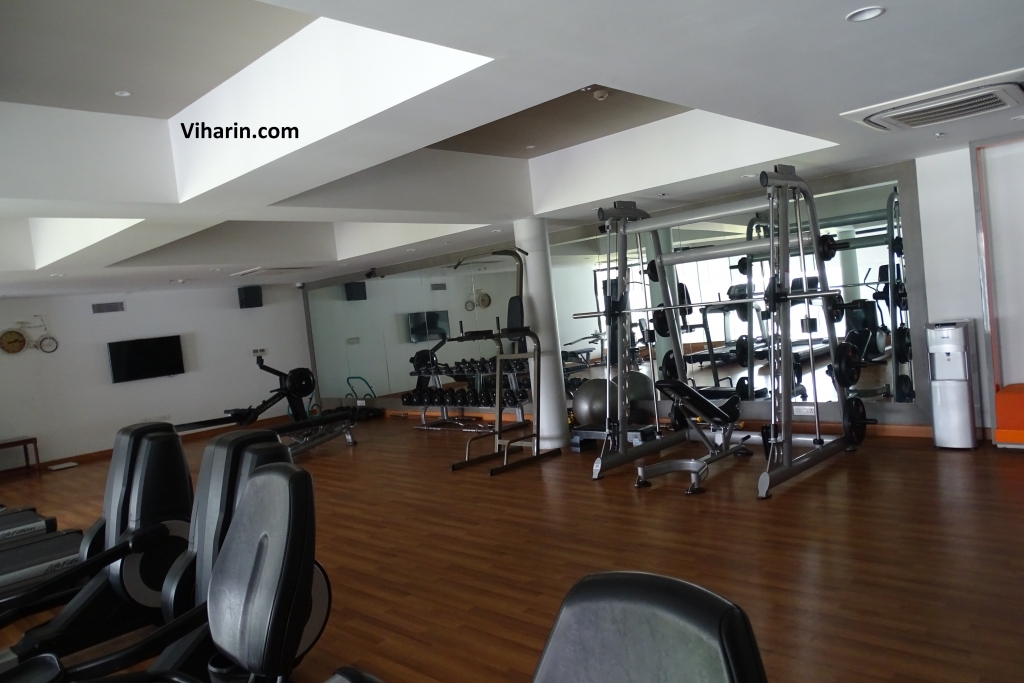 The restaurant 'On Kourse' serves delicious food with a variety of sitting arrangement. The restaurant overlooks the golf course and there is a lawn where sitting arrangement is done. One can enjoy the sun and have meals during winters.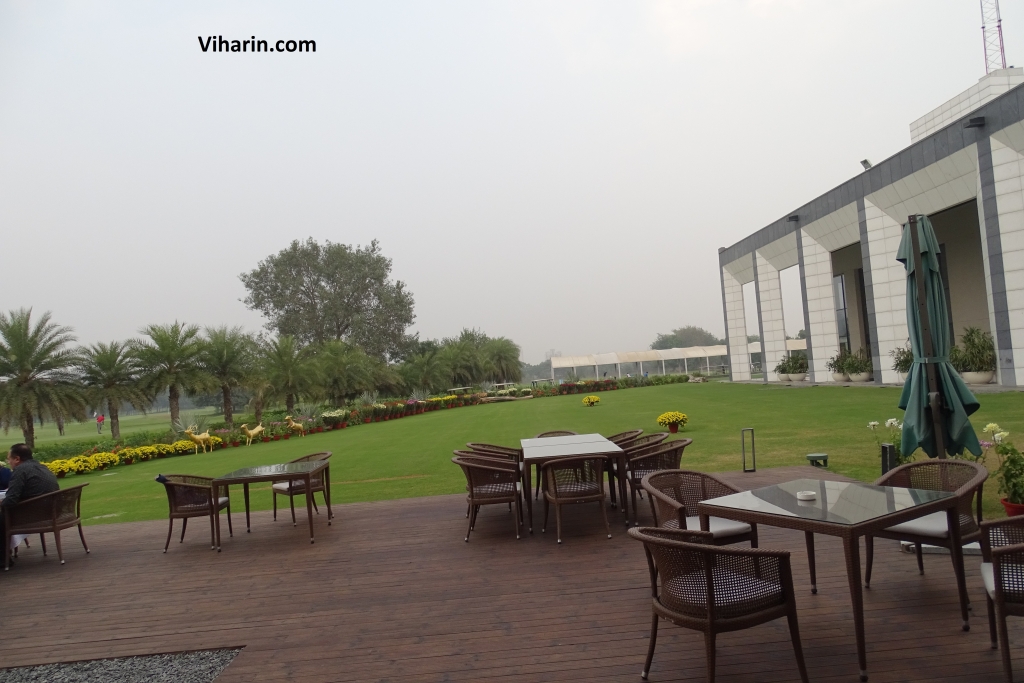 There is also another room where 'Live' Goddess is worshiped. We spent our time there. The room is called as Isha. It was an altogether different feeling and I came out very positive after doing meditation  for 10 minutes. Meditation plays a crucial role in giving positive energy. We as a family will do regular meditation going forward.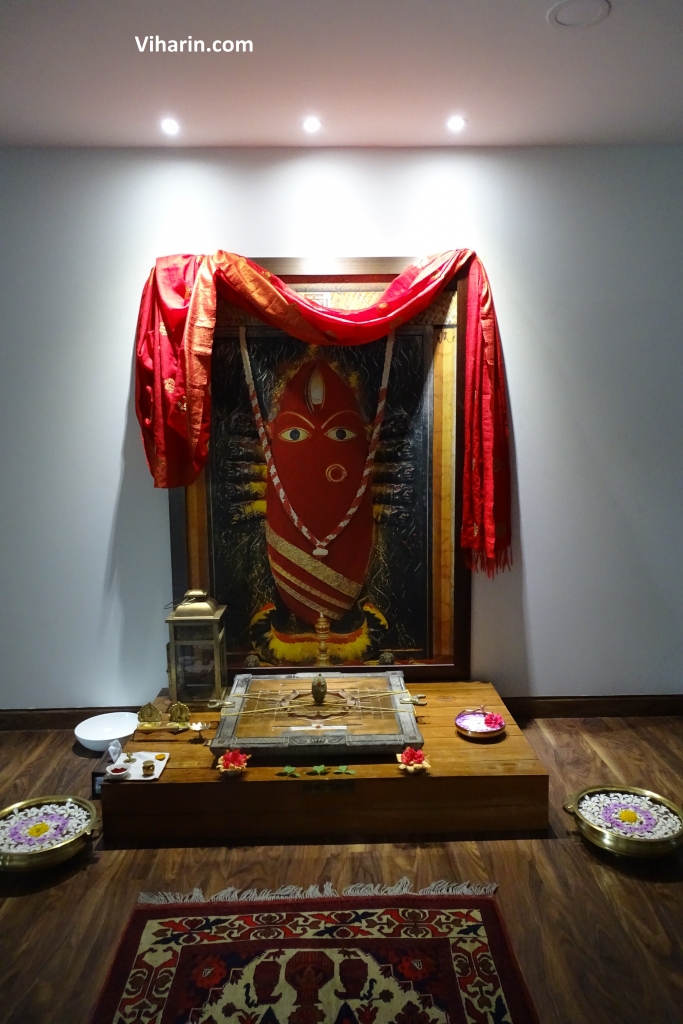 I could see a big solar panel covering the parking India which was the main source of energy for the full resort. I did cycling with my kids and it was a wonderful experience to roam around in the greenery on the cycle with fresh air.
A very important thing that I noticed was that Mr. Ashwini Khurana who is the owner of this property has very strong values. He believes in afforestation. Till date he has planted about more than two lakh trees in his lifetime. I learnt that every week 15 to 20 employees get together and plant trees in the area. It is a dream of Mr. Ashwini Khurana to have enough water in Manesar so that there is no dearth of it. All this was a very inspiring for us and we would include the same thing in our life.  We have decided to plant trees every week.
I got to do some family bonding and it was a nice getaway. The food at 'On Kourse' was delectable. One very interesting thing that I noticed was most of the statues many of the statues were beheaded to signify that leave your head behind before you enter this place.
The property can be used for weekend get away for families , for a rented accommodation for expats who are working in Gurgaon. The property can also be used for big destination weddings. There is enough banqueting space with two banquets one of which can host 200 people and other a small gathering. The resort can be considered a good wedding destination. Marriages are held at beautiful lawns and also with due consideration in some parts of Golf Course. There is a capacity to hold a gathering of 3000 persons at Karma Lakelands.
If one wants to buy a villa that is also a possibility and authorities are also looking out to rent out the villas for guests who want to stay away from the hustle bustle of the city and the pollution, this place is great. I'm sure anybody who would stay here would not like to leave the place at all but every but as every nice things has to end for the better, we had to leave but would definitely miss this place,
My experience with family at Karma Lakelands was beautiful. We all enjoyed to the core. So if one comes there , there is lots of entertainment for all ages ranging from a kid to the elderly. All will enjoy this lovely place. Highly recommended.
Nidhi KM
© Viharin.com