After experiencing the property at Karma Lakelands , the Golf Resort, it became our utmost priority to have a word with the President, Mr. Ashwani Khurana who was present in the property while being absent! Strange it is ! Isn't it? We had spent one night and two days at Karma Lakelands. While we experienced  Karma Lakelands, Mr. Ashwani Khurana was traveling. But, the amount of positive impact that was apparent at the resort , clearly showed the hard work, strategic thinking , time and money invested by Mr. Khurana. Everything was speaking about him, be it Golf Course, Villas , chalets , amenities and even staff there. We had got a lot of positivity from Karma Lakelands. You will see this unique statement of mine only in this article. There are three ways in which a person does a job. Some do it just for the sake of it, some do it with passion and people like Mr. Ashwani does it with a mission. He has planted 2,00,000 + trees in his lifetime. He indeed is a  game changer. Mr. Ashwani has a dream to  plant so many trees in the area that there is no dirth of water in future! This made us curious to meet him. There were more reasons that kept adding to our curiosity. So below are answers to all our curiosities.
Interaction with Mr.Ashwani Khurana- President, Karma Lakelands  
What inspired you to start with Karma Lakelands?
In 1989 land banking was done with deep passion to only grow lots and lots of trees. And now, I can proudly say that we have been successful in planting and nurturing over 2,00,000 trees and plants since then. Eventually the time and tide has taken a certain course! And here we are Today, evolved as one of its kind eco-friendly luxury Golf Resort.
What inspired you to plant two lakhs plus trees and keep you doing the same?
Seeing trees grow was immensely elating for me, as one would feel seeing their child grow. This bliss was inexplicable and I became an ardent nature lover. I lived by the self-guiding principle that greening, like charity, begins at home; but it shouldn't end there. I soon vowed that I will plant 1,00,000 trees in a decade. So I started afforestation activities in my neighborhood, the golf course and other areas. This acted like a fuel to fire; the desire to see greenery of trees became insatiable in me and today, I take pride in the fact that I did achieve that goal and now have planted and nurtured over 200,000 plants and trees at Karma Lakelands!
Your staff talks so positive about you. What keeps them motivated?
I guess you have to give love & respect to get it back. Sometimes it comes back with interest! You have to read our company mission statement to get the answer on why we are such a loving organization.
The pursuit of a larger purpose than "return on investment" is our biggest motivator.
What is the vision and mission of your life?

I wrote my personal mission statement on a retreat some 20 plus years ago in Dharamshala. With every passing year, my intensity to walk this path has only been increasing.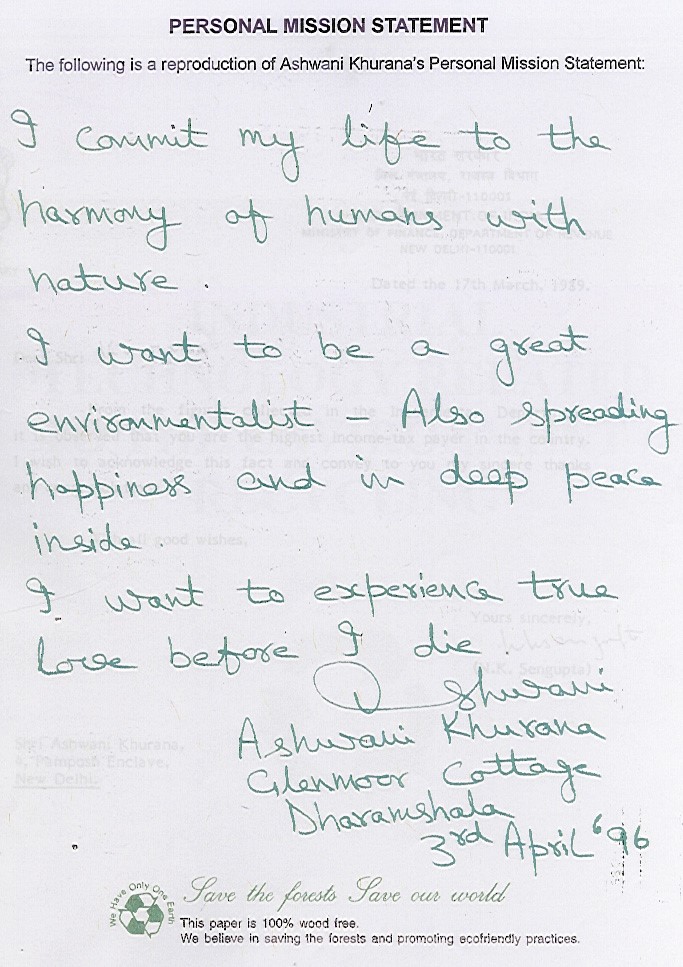 My personal and professional vision and mission are interlinked.
I firmly believe that 'Responsible Living' is the motto to live by for a sustainable future. I wish to work in an association with similar like-minded individuals and families. At the same time, I wish to expand the kind of services available to our customers. Keeping these two ideas in mind, I want to develop Karma Lakelands in an eco-friendly manner. Thus, we have recently added Klub Karma and Grand Ball Room for our clients. Our luxury resort is the ultimate destination for top notch events and lavish weddings. But at the heart of all this is the concern for nature.
What are the challenges you face to keep Karma Lakelands as the most preferred weekend destination for travellers
Weekends are no longer a challenge as we are running a full house on most weekends now. While we are still into year one of our operation, we are already doing the numbers that were factored to be achievable from the 3rd year onwards. However, weekdays could do better if corporates could appreciate our 300 acre outdoors including the golf course & so many sports activities like 7 kms of a safe cycling space, cricket, squash, football etc. We are working hard on reaching out to potential business and the pull is getting created as soon as someone enters Karma Lakelands.
Nidhi KM