The Falhumaa restaurant is a fine dining restaurant at the Residence Maldives. It is syrategically location on the island of The Residence Maldives. One has to go there by golf car. Its built on the lagoon. Because of its exclusivity, having a meal at Falhumaa is an experience in itself! We were supposed to have a formal dinner there.
Ambiance at Restaurant The Falhumaa
Falhumaa means a 'Solitary flower'. The restaurant truly reflects its name. It is one and only located at a place where one has to go to specially. Totally secluded from rest of the resort! It was a nice and pleasant evening. As we entered the restaurant , there was an indoor seating in a big area followed by an outdoor seating facing the beach.
It was open air seating on the ocean facing the ocean.
The other section – bar area was inside. As we sat in the open air restaurant, I realized the beauty of stars and there was sound from sea with cool breeze flowing . It was a great experience! I wanted to be there for endless hours and simply sit and gaze the sky.
Food
I ordered Mushroom soup and it was delicious! The texture, aroma and taste of soup was irresistible.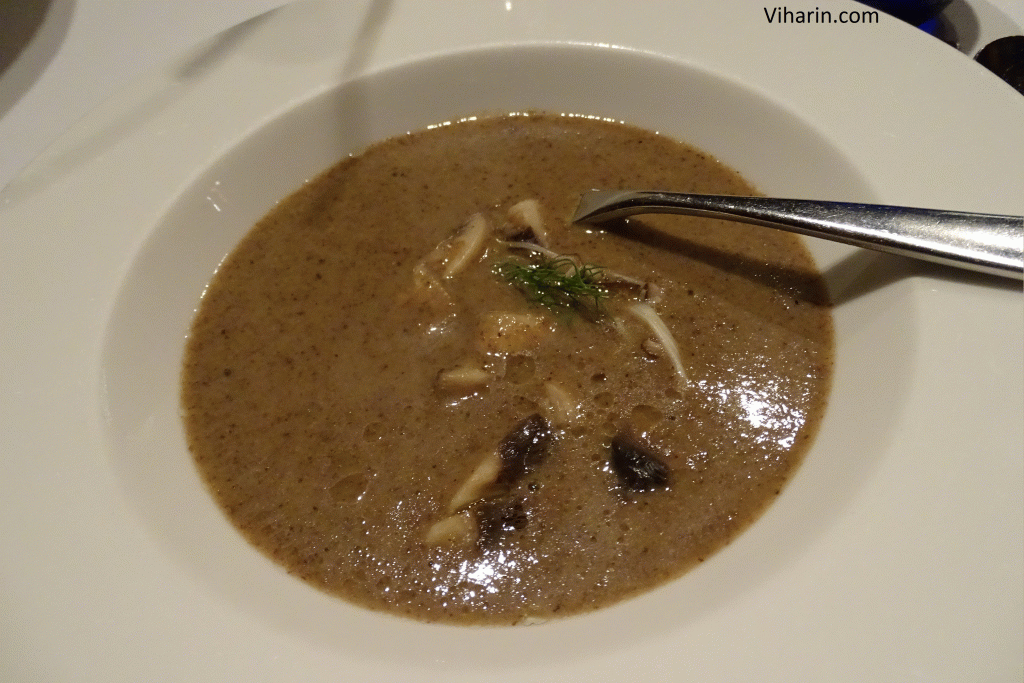 I then had vegetable fritters. It was a combination of onion rings, carrots (which was new for me which was a healthy option), potatoes, bell and peppers.
By these mouthwatering dishes, I was already full. I ordered my favorite dessert. The dessert had a milk strawberry mixed chocolate chip, cake and ice cream. It was  luscious!

Service
Service by the staff was impeccable. It was a quiet restaurant and staff was pre emptive and  attentive to our needs. All staff members were courteous and had pleasantly smiling faces.
Overall, it was not only a dinner, it was an unforgettable experience of lifetime! Sitting in the ocean, gazing the sky and savouring succulent dishes!
Nidhi KM
© Viharin.com