When I used to work with American Express, there used to be a tradition of pot luck lunch when everyone would bring their cuisine speciality food item and it would be shared across the team. My team used to be big and its members were from various parts of India. Pot luck lunches used to be a great platform to know each other's cuisine. Some one would bring Chicken Chettinad, some Chhole, Paneer makhani etc. Once my friend suggested why not create as special dish that reflects the taste of two different tastes!
I got super curious with the concept and loved it. Such unique and interesting combination! So when it comes to an interstate marriage, why not marry cuisines as well of those states. I simply fell in love with this great idea and started thinking what can I do to compliment this concept of inter state cuisine marriage. I suddenly got an idea to surprise my colleagues with this.
Well, I tried to combine onion uttapam and chhole. What a superb combination! I named the dish as Onion Uttapam with Chhole.
Ingredients required
1 cup Curd, 3 cups semolina, 1/2 cup chopped onions, green chillies, 1 cup chickpeas( soaked in 4 cups water overnight), 2 medium sized onions, 4 medium sized tomatoes, 5 cloves of garlic, 2 inches ginger, 1/2 tea spoon garam Masala, 1/4th tea spoon black pepper, 1 tea spoon coriander powder, 1 teaspoon turmeric powder and 2 tea spoons chana Masala and salt to taste, oil and ghee
Steps to make Onion Uttapam with Chhole
How to make Uttapam
1. Make a thick batter of curd , semolina and water to make a thick flowing consistency
2. Keep it for two hours so that it swells
3. Add salt and chopped onions to it and chillies as per your taste
4. Put 2-3 tea spoons oil on the pan and spread it
5. Let it dry and turn upside down till both sides turn light brownish.
How to prepare Chhole
1. Grind onions, tomatoes, garlic and ginger together in a mixer grinder
2. Put 2 tea spoon full ghee in a pressure cooker
3. Put 1/4 the teaspoons cumin seeds in ghee and fry till dark brown
5. Put the mixture from step 1 in cooker
6. Heat it till it turns orangish red
7. Add turmeric powder and stir. Keep it for 2 minutes
8. Add coriander powder, garam Masala, chana Masala and black pepper
9. After 5 minutes of cooking, add chickpeas
10. Add salt to taste and water enough to make a thick gravy.
11. Close the lid of cooker and turn the gas to 'ON' mode.
12. Once the cooker whistles, simmer for 45 minutes and let it cool
13. Serve hot on top of Uttapam with chopped onions on top of chhole
When I had this outstanding combination, I was pleasantly surprised to see the results.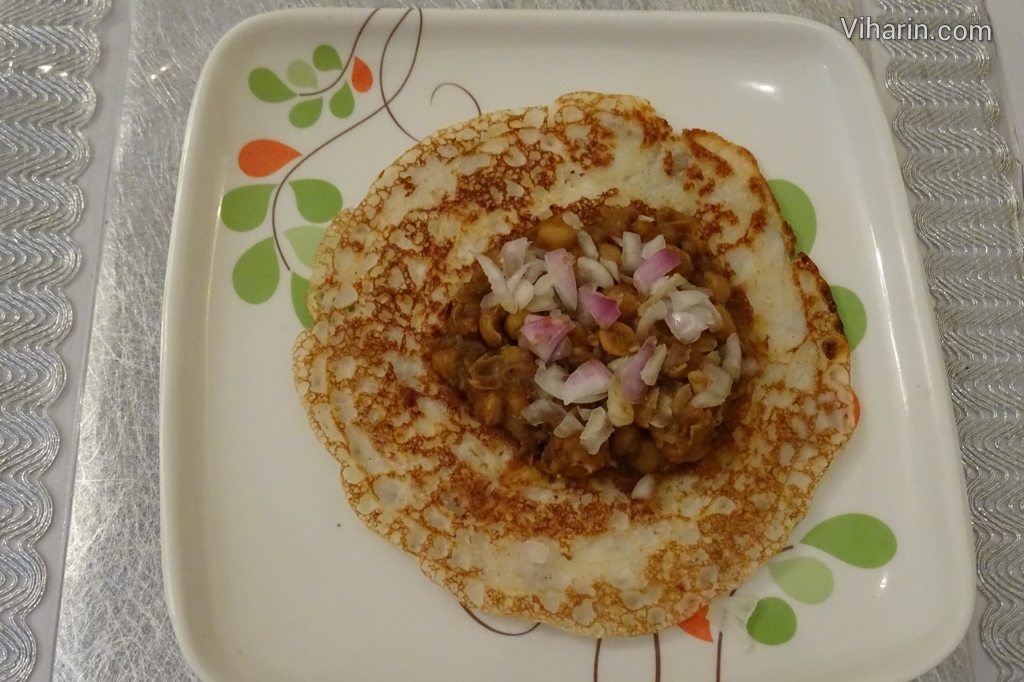 The dish was mouthwatering. I loved it. My family loved it too! Now that I am in blogging world and whenever I get a chance, I am going to present this dish to my friends. Also, will keep trying more and more dishes be if continental or Indian or any other International dish as I will have access to many other equipments as well. https://www.village-bakery.com/
Nidhi KM
©Viharin.com