Have you seen the Bollywood movie – Jeans's song- Ajooba having scenes of Colosseum. Most of the sites in song are amongst wonders of the world. I used to always admire those locations. Never thought that one day I will be visiting one of them in Europe! Indeed, a feeling of visiting a site where a Bollywood movie was shot is unparalleled.
We were given only half an hour to see Colosseum and take pictures. Its a great site! This is the largest amphitheater in the world. It's one of the seven wonders of the world!  The structure of Colosseum was completed in AD 80. Which means about 2000 years ago! That time, it could seat 50,000 people. It took almost 9 years to complete this incredible building. This place was normally used for public spectacles, gladiatorial contests. This open area used to get covered with a humongous fiber during rains.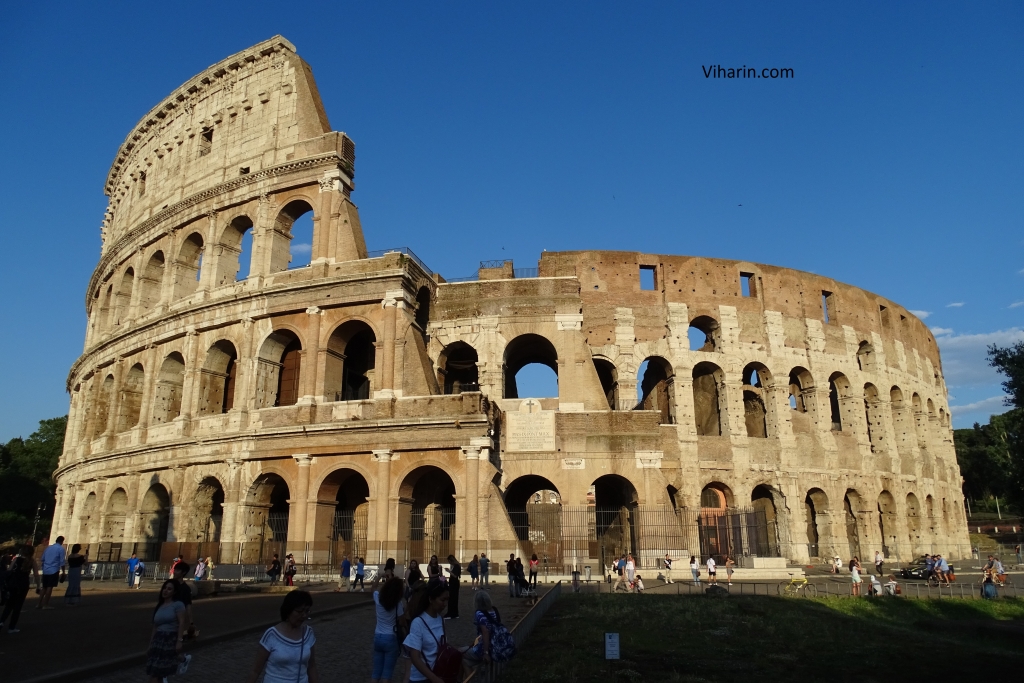 The structure has been damaged a bit by earthquakes and stone robbers. However, its as beautiful as ever. Colosseum is an icon of Imperial Rome. We were delighted at the sight of it. We were really curious to see the amphitheater from inside. Since we had only half an hour at hand, I will tell you what we did?
We did utilize our time well! If you visit Colosseum, what you must do is listed below.
Take photographs at the iconic structure
Don't miss to take the round of the structure
Ensure to visit the other side of complex which has few gardens
Buy gifting items from the roaming vendors having key chains of the structure. You will love them as they are not costly and are beautiful memoirs
Sit for a while and have a feel of the place.
If possible in case time permits, witness the magnificent amphitheater  from inside
I have heard about and also seen pictures of beauty of Colosseum during night when it is well lit for a function or festive celebrations.
Colosseum is a site must visit. There was huge crowd around. We thanked ourselves to have personally witnessed this glorious structure.
Nidhi KM
© Viharin.com ®