I was thrilled to know about the dining session with the Royals of India. Dine with Royalty is the initiative taken by 'Eat with India' team. The event was held at the Embassy of Belgium. During the evening when all guests arrived at the venue, Ambassador of Belgium , His Excellency Jan Luykx addressed audiences by saying Belgium is a foodie paradise. People in Belgium love to eat! Hence the choice of the foodie evening!
H.E. said Sonal Saxena and Siddharth Katoch of Eat with India are food lovers and strongly believe that the regional cuisine does not get the required recognition. Everyone wants to eat international food. People are forgetting  Indian cuisine which has a treasure of luscious dishes. So Sonal and Siddharth want to promote Indian cuisine. The idea was to promote it in a non restaurant place.
My experience at Dine with Royalty
There were esteemed personalities for the panel discussion.
Uday Mahurkar , Senior Editor of India Today and a political writer was the first one to predict Modi's present.
Mr. Pushpesh Pant. food critique of Indian cuisine, Indian academic. He has written for major publications like Forbes, India – the cook book and received Padmashri award in 2016
Rashid Ali and Ayesha Ali from royal families of Madhya Pradesh said that the food in Madhya Pradesh sees influences from both North and South. There is so much to see and do in Madhya Pradesh. Food in houses of royals is something to die for. Most of recipes came out of hunting. It was the basic ingredient. There were limited ingredients to cook. Filfora cooked with only three things. Risala comes from coriander, poppy seeds, khus khus.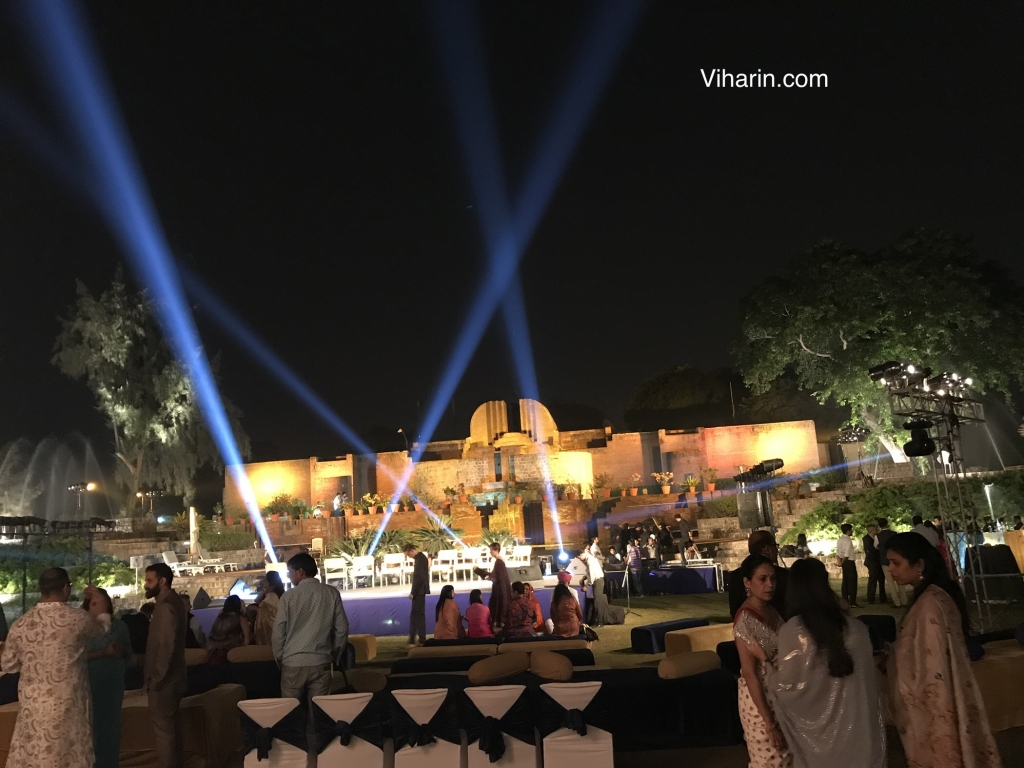 Maharaja Brij Raj Singh and princess Vaishnavi Kumari from Kishangarh told about the royal food. Bani Thani is a classic icon of Kishangarh. Princess has a strong interest in art. Every region had a unique way of preparing different kinds of foods. In Kishangarh, red chillies and cumin seeds are very popular. Maharaja of Kishangarh said Sula is very popular. Gond ke ladoo is an ideal dish to try.
Heritage hotel by the royal family serves murgh malai and kabab. Training to staff came directly from grandmother. Nihari is a signature dish in fine dining. Shamla sandwich,  Risala. Desi murghe is a great dish as well!
Rao Sahib Lakshman Singh Ji and Rani Gajendra Kumari came from Deolia Kalan. They said they are trying to revive traditional cuisine in hotels with some challenges. When people treat their gusts as personal guests that is the time when food becomes delicious.
Atta ki chakki takes a lot of time to cook but it's worth an effort . Ker with Dakh has a Kashmiri touch. White meat with Amla and curd is a delectable dish. Keema methi is   quintessential winter dish. Sweet dish- laapsi. Wheat is ground thick. We put ghee and fry it till brown and put jaggery water and dry fruits.
Food I had was finger licking. There was maans achari bootain and Murgh Soole. Both dishes were outstanding without much oil and chillies. Mutton was marinated in yoghurt and Murgh Soole was marinated and then grilled on hot plate.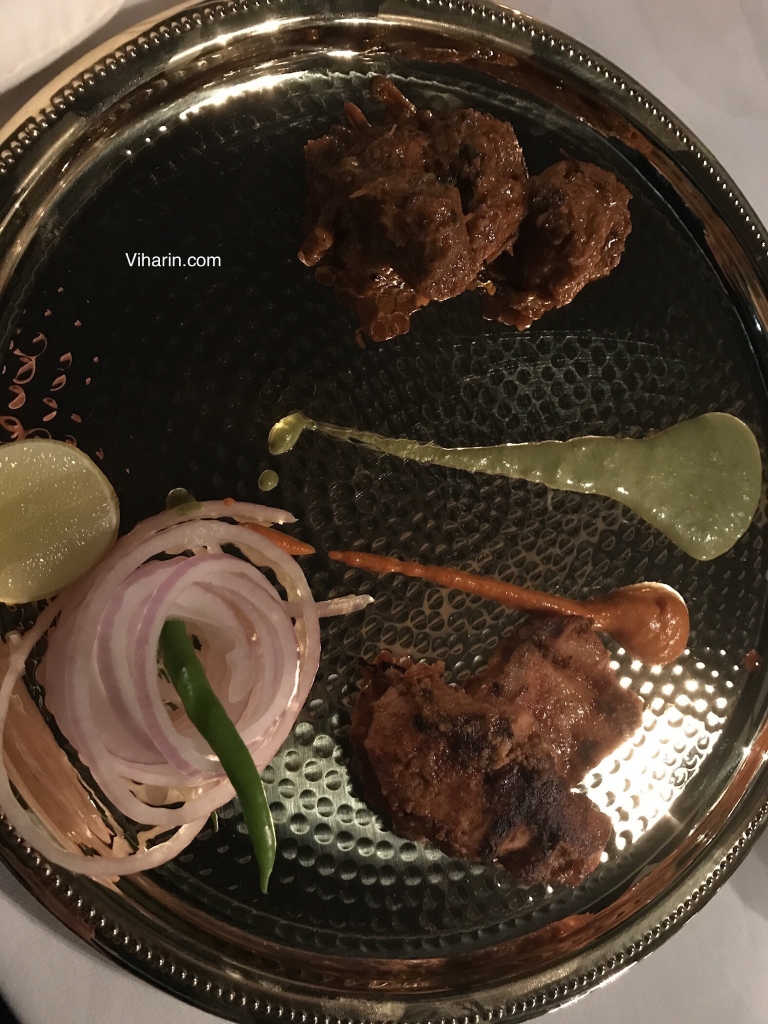 Main course had matki maans which is cooked in yoghurt with kachri and spices in clay pot. It was luscious! Pieces were tender and juicy. Kaju keema , my favourite had cashews in it. This dish was lip smacking. Had I not been full, I would have sourced in it. Amla murgh was rich in nuts and was cooked in white gravy. It was delicious. I must say my taste buds were satiated. I loved every bite I savoured.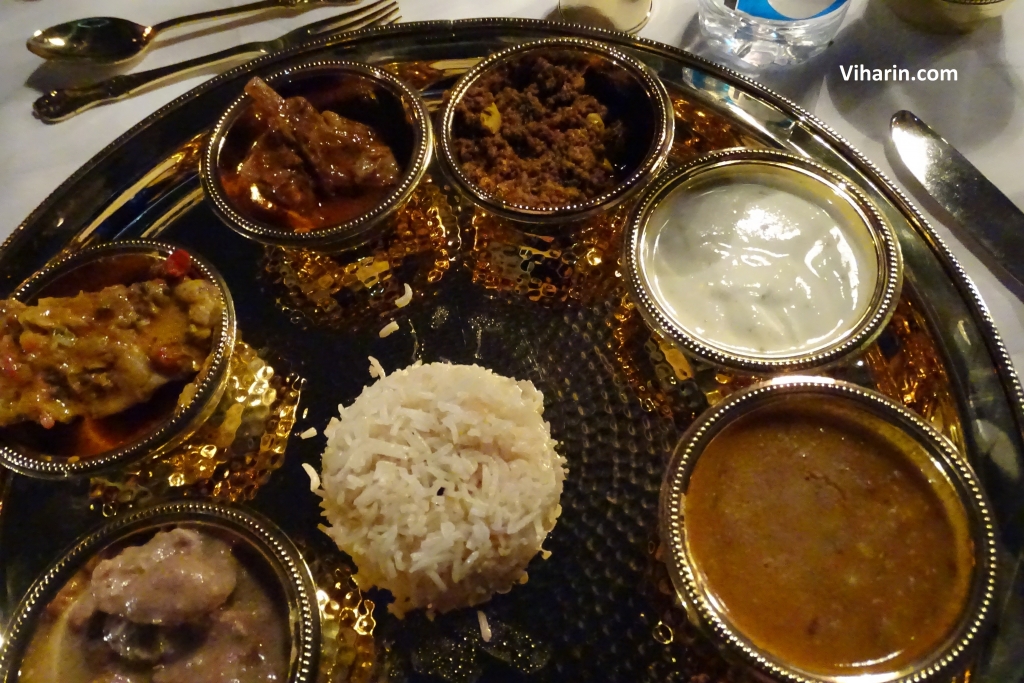 I had a detailed discussion with Rani Gajendra Kumari and her daughter inlaw Baisa Vijeta Singh Shekhawat. It was a pleasure talking to them. Rani Sahiba is fond of eating so she likes to cook good food. Whatever is prepared is home grown. She said three main ingredients in their food are garlic, onions and red chillies.   Sula and Laapsi are famous dishes.
When I asked about daily routine, Princess Vijeta mentioned that people's visit keep Rani Gajendra Kumari busy throughout the day. Post 7pm dinner time is family time. Various Achaars (pickles) are must for meals.
Upon asking about the structure of the Mahal they live in , Princess said that the Mahal being 400 years old needs constant maintenance.
Royal cuisines of India are really interesting. Each dish has a background to it. We should surely preserve our nation's food and savour it. I would better appreciate the regional food of India after attending this event. Hotels, government has a strong role to play in reviving and preserving our country's food. All of us have the responsibility to carry forward the traditional cuisine of india.
Nidhi KM
© Viharin.com