You must have heard about the Bollywood song- Dil Diyan Gallan karange naal naal bei ke… of movie Tiger Zinda hai Katrina Kaif and Salman Khan starrer. The song was shot at the The Goldenes Dachl i.e., The Golden Roof in old town of Innsbruck, Austria. The song was shot in the evening with the area totally vacant and candles lit up the area in a beautiful set up. When we reached this area, the whole place was bustling with crowd everywhere.
We were curious about the existence of Golden Roof. Soon many curiosities around the place were answered.
The building was completed in 1500 and was decorated with 2,657 fire-gilded copper tiles for Emperor Maximilian I on his wedding to Bianca Maria Sforza.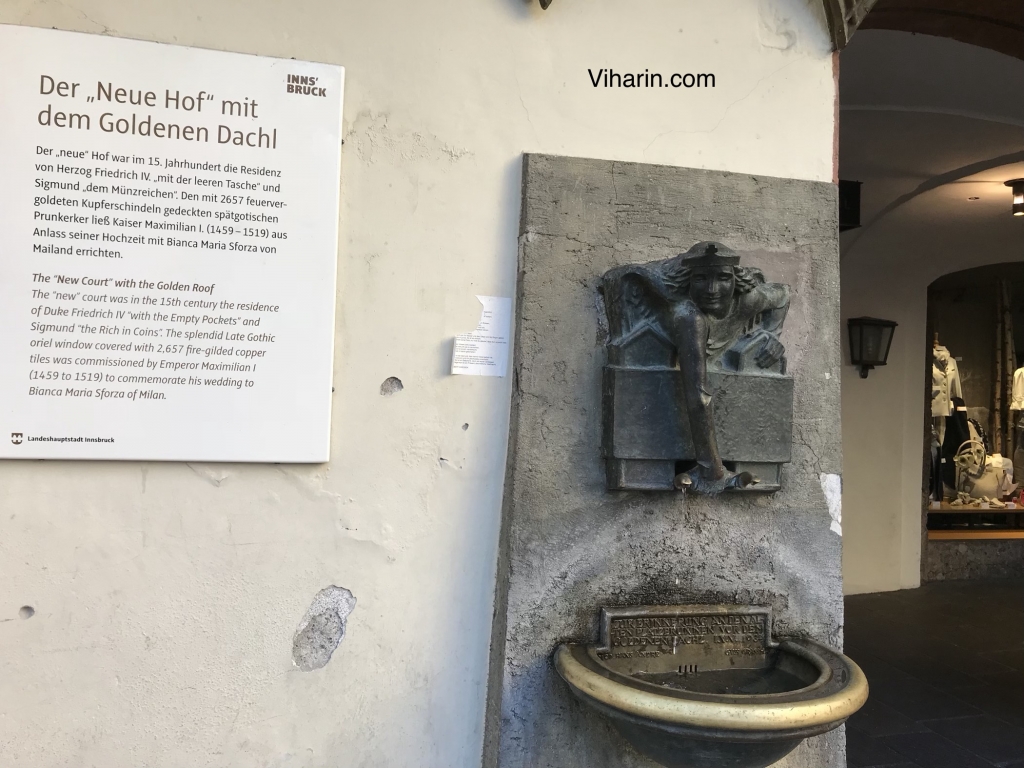 Both King and Queen used to enjoy the view of the square below during special occasions like festivals and important events.
Now, there is International Alpine Convention's Office inside The Golden Roof. There is also a museum, the Maximilianum in the building. Some special words were written on the relief of this roof.
"Use every moment, dance every dance, you can't take anything with you."
Many restaurants and branded shops surround the area. Restaurants have open air seating arrangements as well. Shops are constructed in a typical Innsbruck-Salzach style and the colourfully decorated bay windows bring history and culture to life.
We had ice creams to enjoy the place and the weather. It was a nice time spent having an ice cream on streets of Austria around the famous roof. Crowd seemed to enjoy as well. People were having fun eating and enjoying museum. Since we were short on time, we couldn't see the museum. But we felt happy to see one of the famous monuments of Austria, where one of the famous Bollywood songs was shot.
Overall, great experience!
Nidhi KM
© Viharin.com ®