About Jungfrau
Jungfrau, is one of the most heard name when you plan to visit Switzerland. Jungfrau is popularly known as 'Top of Europe'.
Jungfrau is a full fledged campus in itself. A lot is said about Jungfrau, its railways system, its observatory, cavern.
Its railways is known for generating electricity while going downhill since 1912. There is a manual check per week of the track for full 9.2 kms. A railway employee does the check on foot.
We were very keen to visit the place. We had been planning for it for two months. The idea of reaching the Top of Europe was fascinating in itself. I had heard, that the Jungfrau Railways is a strong example of how Swiss railways have developed incredible technology in terms of speed, comfort and ease in access. This was all true. We were supposed to leave from Interlaken Ost for Jungfrau. It was a journey of maximum two hours on the steep slants of Swiss Alps. The engineering of railways is so advanced that you would not realize about the steeps of the Alps you would pass through.
We were amazed at the beauty of Alps and the comfort we got in trains on steep slopes. Our trains were passing by the beautiful river having greenery all around which was surrounded by mighty mountains and clear skies above. There was a beautiful waterfall that complimented to the beauty of the whole scenery.
How we reached Jungfrau
We had to change three trains to reach Jungfrau. From Interlaken Ost, we were to go to Grindewald to Kleine Scheidegg. From Kleine Scheidegg, there was a special Cogwheel train to Jungfrau. This train was superb and a provided a Royal experience. Soon we saw snow fields.
The temperature of railways is maintained. You would not feel cold at all. The whole campus at Jungfrau also has temperature maintained.
Experience at Jungfrau
Experience at Jungfrau is worth the money spent. After the scenic train journey, we reached the top of Europe. We got a passport that provides detailed description of points to see and  the levels of same. There is a Blue Signage – 'TOUR' that you keep following and you will easily explore each and everything of it. At the entrance itself, a big area shows 360 degrees view of snow covered Alps through an interesting movie.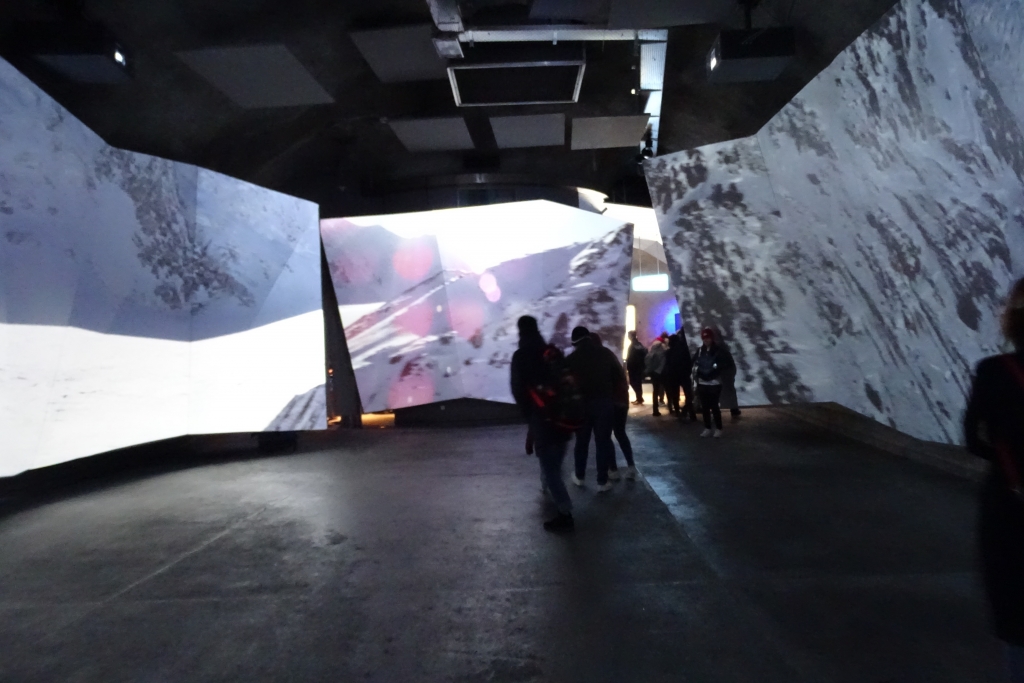 It was as if I am in the movie itself. Going further, there was a cavern called as Alpine Sensation that provided the history of how Tourism has evolved at Jungfrau. This was followed by unparalleled Ice Palace. Palace was remarkable. The temperature at Ice Palace is maintained at -2ºC. There were ice sculptures of animals like wolf, Jackal, a full family of penguins.
Most importantly Charlie Chaplin. Ice Palace was brilliant. One must experience it when in Switzerland.
Glacier is what people visit Jungfrau for mainly. At the height of 4,158 meters above sea level, chilling winds will cut your face.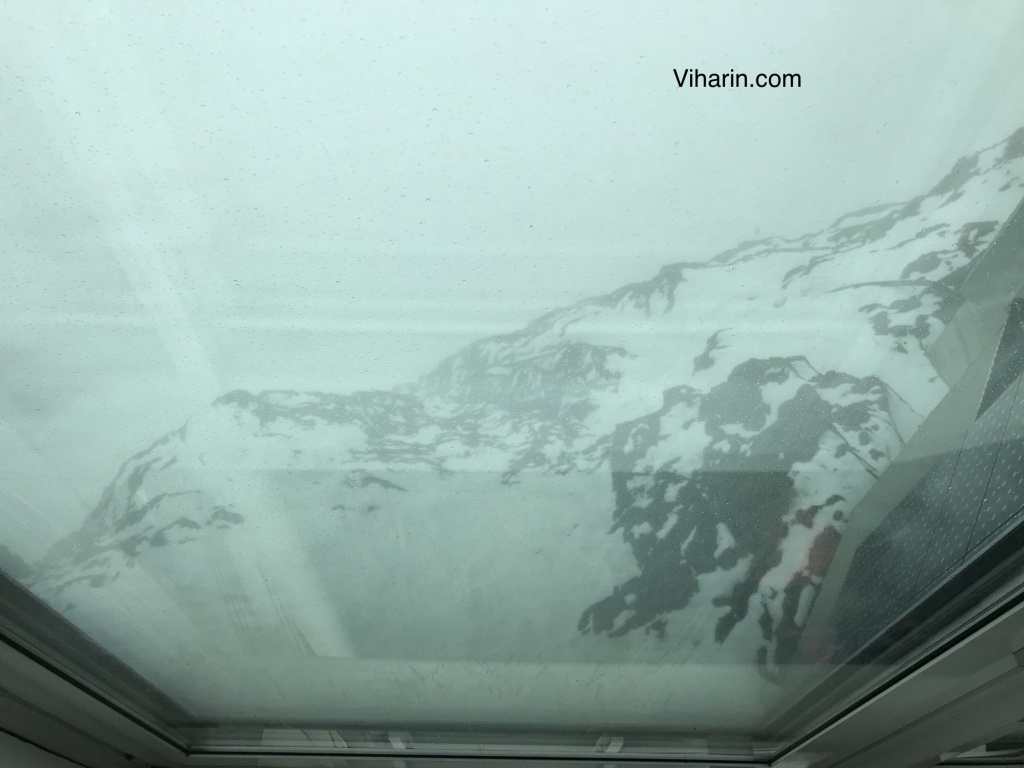 You would not be able to keep your hands without gloves even for 5 seconds. There was only a meter visibility. The point where we stood was a bit scary to me.
There was a huge depth that we could see from there. Few people were gutsy enough to go ahead and enjoy. There are telescopes all around. You can see various points if the weather is clear.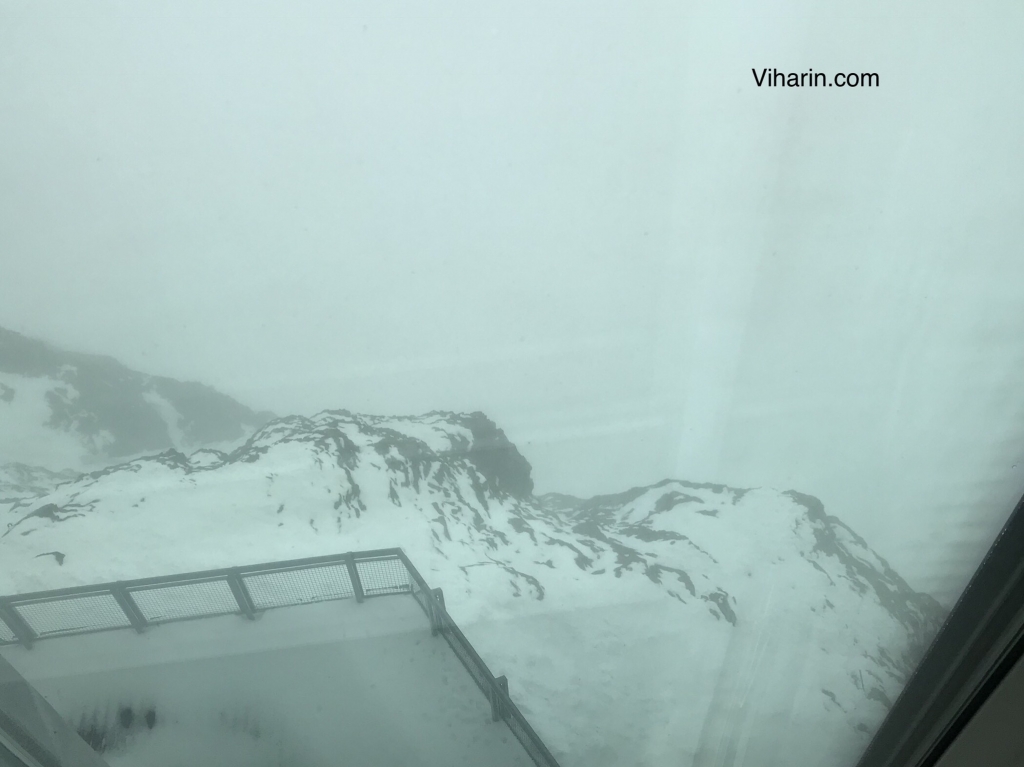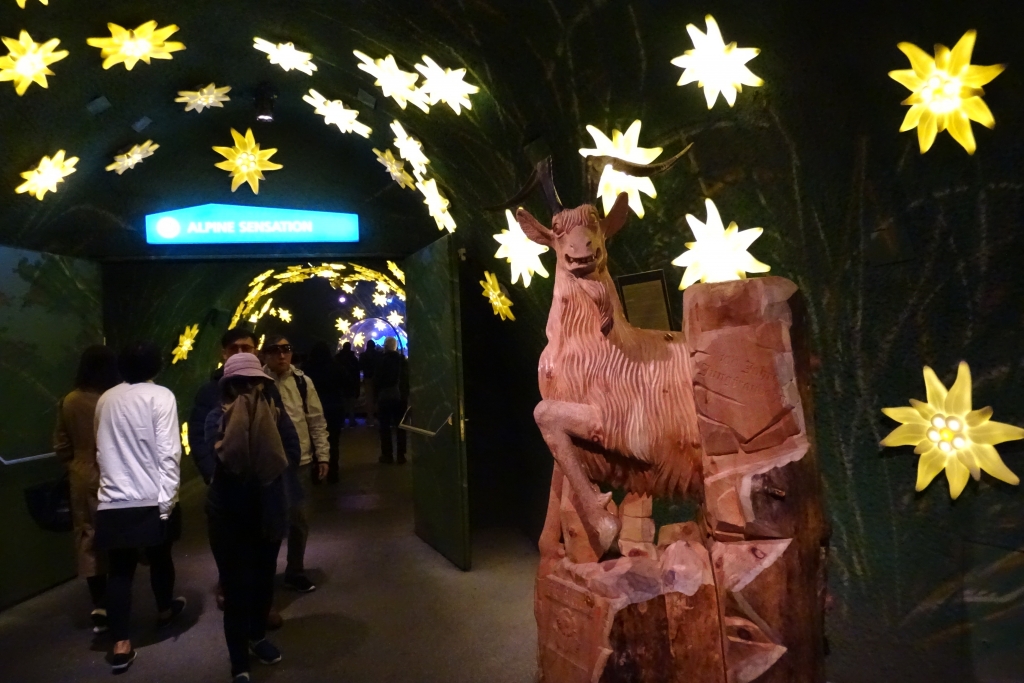 Jungfrau campus has a Lyndt chocolate shop selling chocolates at the best prices.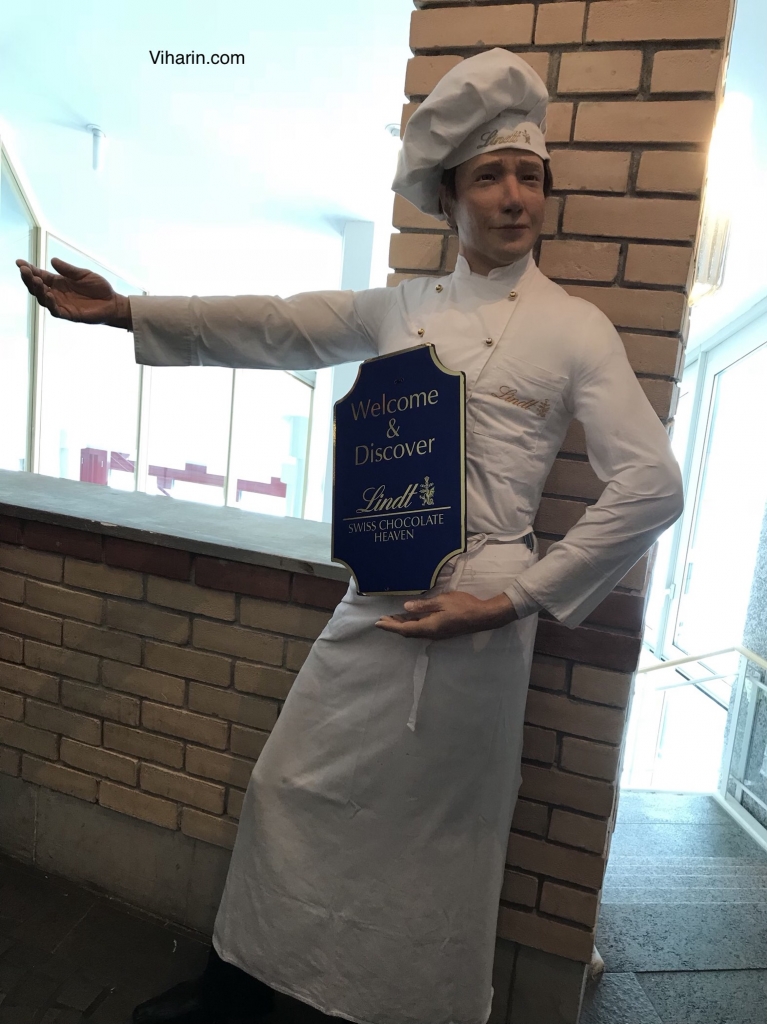 There are three restaurants, out of which one is an Indian restaurant by the name 'Bollywood'. The campus hosts world's highest watch shop. There is enough to keep guests entertained and at comfort at the Top of Europe.
Nidhi KM
© Viharin.com ®